No one should be kept from realizing their full potential because they menstruate! GIZ colleagues worldwide – from interns to the Chair of the Management Board – raise their hands to support the cause.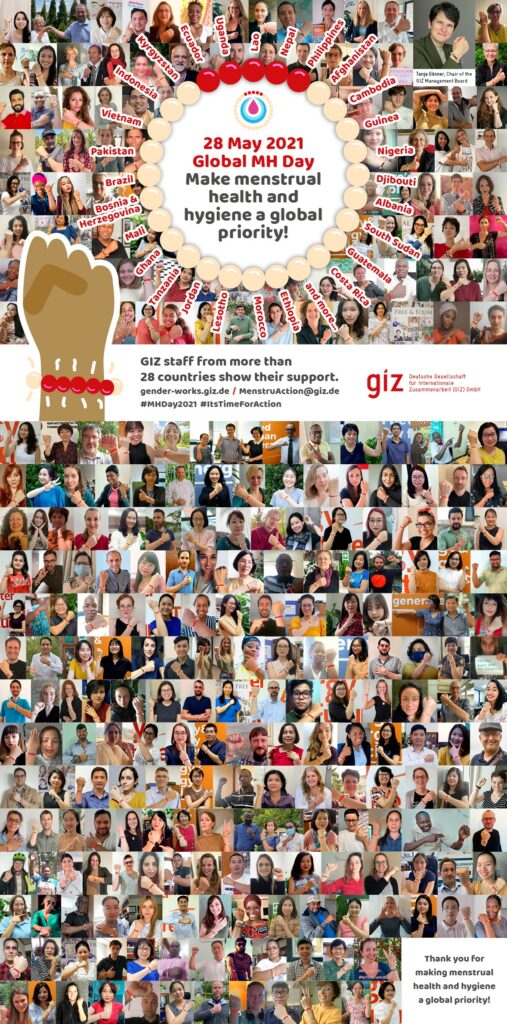 Just as the red ribbon stands for the fight against HIV/AIDS, the menstruation bracelet has become a symbol for the fight against period stigma. It consists of 28 beads, including five red ones, which symbolize the median number of 28 days of the menstruation cycle and the average period length of five days.
Every year, MH Day, initiated by the Berlin-based NGO WASH United, rallies the international community to break the silence, raise awareness, and change discriminatory social norms and taboos around menstrual health and hygiene.
MH Day 2021 marks a milestone for GIZ: With more than 250 colleagues from more than 28 countries, we are sending a powerful message against menstruation stigma worldwide. We are excited by the great turnout which has exceeded our own expectations and goals regarding participation! A big thank you to everyone involved in advocating for a world free of period poverty and stigma!
Now it's time to celebrate this year's Menstrual Hygiene (MH) Day on the 28th of May, which – you might have guessed – also draws on the numbers 28 and 5.
—
More information about MH Day and Menstruation Bracelet Campaign: https://menstrualhygieneday.org/
Last year's GIZ Gender article: More than 100 GIZ colleagues fight against period stigma and for good menstrual health and hygiene | GIZ Gender
GIZ's Support to the Health Sector Programme (S2HSP) in Nepal was shortlisted for the GIZ Gender Award 2020 with the contribution: Nepal: Making Life Better For Girls And Women In Nepal – Month After Month | GIZ Gender
The full list of the supporting countries represented in the 2021 campaign includes: Afghanistan, Albania, Bosnia and Herzegovina, Benin, Brazil, Cambodia, Costa Rica, Djibouti, Ecuador, Ethiopia, Germany, Ghana, Guatemala, Guinea, India, Indonesia, Jordan, Kyrgyzstan, Lao, Lesotho, Liberia, Madagascar, Mali, Mexico, Morocco, Nepal, Nigeria, Pakistan, Philippines, South Sudan, Sudan, Tanzania, Togo, Tunisia, Uganda, Ukraine, Vietnam, Zambia.
Contact Details
Name: Tabea Seiz
Email: tabea.seiz@giz.de