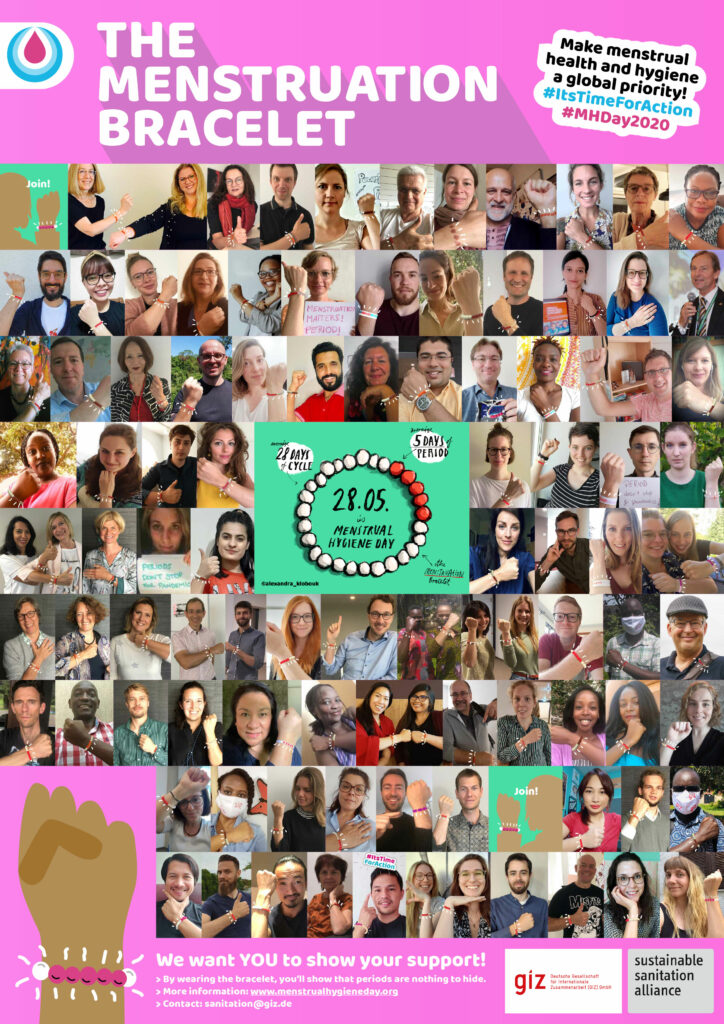 As a contribution to this year's Menstrual Hygiene (MH) Day, celebrated every year on 28 May, more than 100 GIZ colleagues from interns to the Director General have joined the Menstruation Bracelet campaign by posting selfies on social media wearing the bracelet. Doing so, GIZ employees from Germany and all over the world set an example for a world where all girls and women have access to good menstrual health and hygiene. This is a milestone for GIZ – and we would like to thank everyone involved!
Just like the date of MH Day, the bracelet consists of a total of 28 beads including 5 red colored beads. The numbers stand for an average menstrual cycle of 28 days and an average period of 5 days. Similar to the red ribbon in the fight against HIV/AIDS, the bracelet stands for the fight against period stigma and the fight for good menstrual health and hygiene for all menstruators (not all menstruators are women, not all women menstruate).
The GIZ Sustainable Sanitation Programme together with enthusiastic colleagues from all over the world raised awareness and increased visibility for the cause of adequate menstrual health and hygiene for all women* and girls* by posting selfies on social media showing GIZ staff wearing the bracelet. From the first 100 selfies we have received from GIZ colleagues, we created a poster which will be launched in the course of the session 'How to mobilize your own organization' during Studio MH Day Impact which is hosted this Wednesday, 23 September 2020 from 3:00pm – 5:00pm (CET) and where the impact of this year's MH Day will be presented!
MH Day was initiated by the Berlin-based NGO WASH United and works towards breaking the silence, raising awareness and changing negative social norms around Menstrual Health and Hygiene. It envisions to "create a world in which every woman and girl is empowered to manage her menstruation safely, hygienically, with confidence and without shame, where no woman or girl is limited by something as natural and normal as her period".
More information on the global MH Day / Menstruation Bracelet Campaign and GIZ's work in this field: https://gender-works.giz.de/menstrual-hygiene-day-is-happening-period/
GIZ's Support to the Health Sector Programme (S2HSP) in Nepal was shortlisted for the GIZ Gender Award 2020 with the contribution "Making Life Better For Girls And Women In Nepal – Month After Month": https://gender-works.giz.de/competitions2020/nepal-making-life-better-for-girls-and-women-in-nepal-month-after-month/
Link to Studio MH Day Impact – and recordings of the online event: https://menstrualhygieneday.org
Contact Details
Name: Annkathrin Tempel
Email: annkathrin.tempel@giz.de