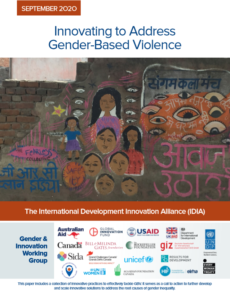 The International Development Innovation Alliance (IDIA) is a collaboration platform that brings together the senior leadership from the innovation teams, labs and departments of some of the world's leading development agencies. IDIA's Gender & Innovation Working Group embarked on a process to identify innovative approaches, partners and solutions to prevent and respond to GBV.
The result of this process was published in September 2020 as a paper presenting a collection of the more than 60 innovative practices. These include policy and technical innovations, behavioural change initiatives, innovative partnerships and creative financing mechanisms, among many others. The goal was to present an inspirational collection catalysing greater use of these innovations in delivering transformative, sustainable change and a safer world for all those suffering and at risk of GBV.
IDIA and GIZ jointly launched the report at the GIZ's Gender Network Meeting 2020, and used the space to discuss and explore innovation against GBV, and to showcase three concrete examples of innovations from South and East Africa and the Caribbean. The event included short presentations of these examples followed by panel discussions among experts from different agencies.
These were the participants:
Ben Kumpf, Head of Innovation – Foreign, Commonwealth and Development Office
Jane Haycock, Director of Innovation – Department of Foreign Affairs and Trade Australia
Djifa Ahado – Global Affairs Cananda
Innovation example #1 – Luxolo Matomela – Step It Up for Gender Equality in South African Media (which was a winner in GIZ's Gender Competition 2020 in the category GG2)
Innovation example #2 – Karen Naimer – MediCapt from Physicians for Human Rights (PHR)
Innovation example #3 – The Hon. Justice Iain Morley QC – Caribbean Court of Justice, Judicial Reform and Institutional Strengthening (JURIST)
We recorded the session and highly recommend to watch it here and to read the report:
Contact Details
Name: Natalie Frei
Email: natalie.frei@giz.de