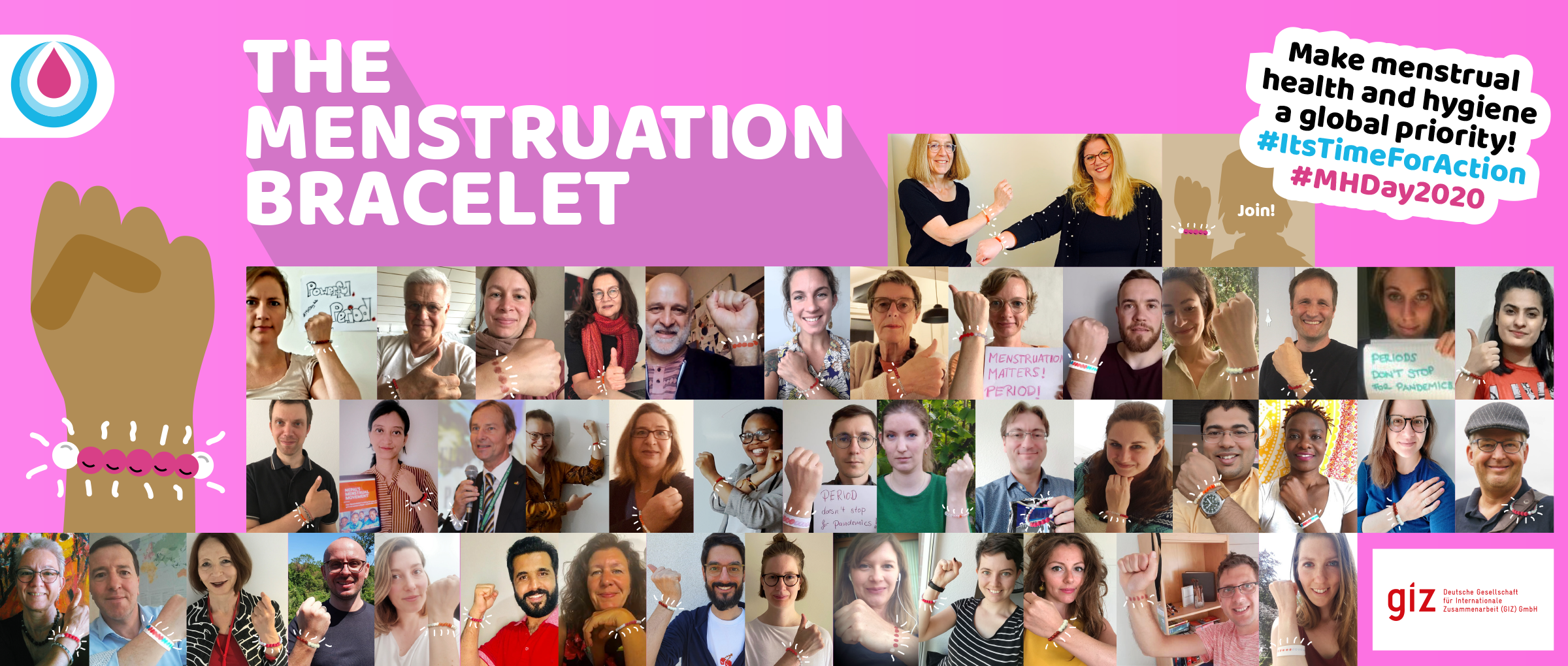 Approximately 1.9 billion women and girls menstruate between two and seven days a month on average. The recurring process of menstruation has a decisive influence on the lives of women and girls worldwide. Oftentimes, they are poorly informed, or menstruation is a taboo topic in their culture. Moreover, women and girls frequently lack access to appropriate sanitation facilities and/or hygiene articles are either not available or unaffordable. The stigmatisation of menstruation not only affects the health, but also the well-being and education of women and girls. It also reinforces the exclusion and inequality between the sexes.
In order to draw attention to this injustice, the International Menstrual Hygiene Day was initiated by the Berlin-based NGO WASH United. Menstrual Hygiene Day takes place every year on May 28 – a date which was not picked randomly. The number 28 stands for the average number of days in a menstruation cycle and the number five for the average number of days of the actual menstruation.
This year the we attempt to raise additional awareness and increase visibility for the cause of adequate menstrual health and hygiene for all women and girls by posting selfies on social media showing us wearing the "Menstruation bracelet". Similar to the red ribbon in the fight against HIV/AIDS, the bracelet is supposed to turn into a global symbol for menstruation. For this we need your help! By wearing the menstruation bracelet, you show your support for this important cause. In the links below you will find instructions and ideas for how to get equipped with a virtual or physical bracelet and how you can post a selfie on Facebook, Twitter or Instagram. We would love to see the link to your picture and statement in the comment section below.
Many GIZ employees around the globe have already followed the call and showed their support. But wearing the bracelet is not the only thing we are doing to end the stigmatisation of menstruation. In 2018 alone, GIZ programmes supported partner governments to reach more than 1.25 million girls with information on menstrual hygiene. Globally, GIZ is in the top five of more than 300 stakeholders that implement education initiatives on menstrual hygiene. In 2019, we could significantly increase that number once again. Our successes depend in large part on our many committed colleagues in our partner countries, especially in the Philippines, in Pakistan, Jordan, Uganda and Nepal. In this context it is worth mentioning that the Support to the Health Sector Programme (S2HSP) in Nepal was shortlisted for the GIZ Gender Award 2020.
More information on the Menstrual Hygiene Day
More information on the menstruation bracelet campaign
More information on several GIZ Programmes, working on Menstrual Hygiene and Health:
Support to the Health Sector Programme Nepal and information on the participation in the Gender Award
Regional Fit for School Programme
Sustainable Sanitation Programme
Contact Details
Name: Annkathrin Tempel
Email: annkathrin.tempel@giz.de