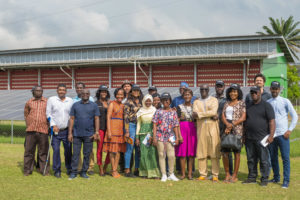 Clean Energy Mini-grids (CEMG) are increasingly emerging as a very sustainable solution to energy challenges. The role of developers, operators and entrepreneurs of mini Grids is therefore crucial and their expertise and skills fundamental to the successful of the operating/management of CEMG projects.
As part of the Project Improving the governance of the RE and EE sector in West Africa (AGoSEREE-AO) funded by the European Union and the German Federal Ministry for Economic Cooperation and Development (BMZ), the ECOWAS Centre for Renewable Energy and Energy Efficiency (ECREEE) and GIZ are supporting Micro, Small and Medium enterprises who invested in, or are planning to invest in CEMG.
Field missions in selected ECOWAS countries revealed a big demand of skills and on the core disciplines, the mostly demanded are in the areas of project management, enterprise management, financial modelling and proposal writing. A tailored module composed of Technical training, Financial training, Business development training & HOMER training was then developed and validated during a regional workshop with relevant national actors (rural electrification agencies of the ECOWAS region) and also regional actors.
After an open, broad and gender sensitive Call for application, a first batch of CEMG professionals from Francophone ECOWAS countries and Mauritania was trained in the Centre des Métiers de l'Electricité, Bingerville (Côte d'Ivoire) in december 2019 and a second batch of professionals of CEMG from Anglophone and Lusophone ECOWAS countries was trained in February 2020.
We were all wowed to see how strong, competent and committed are the Young female entrepreneurs & operators in this sector ! We invite You to watch our short video on GIZ OnlineTV here!

More information on: GIZ Energy programme ProCEM (including AGoSEREE-AO Project co-funded by the European Union).
Contact Details
Name: Brunelle Padonou, M&E and Communication (ProCEM)
Email: brunelle.padonou@giz.de