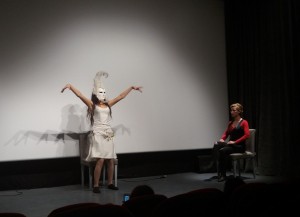 In the scope of GIZ Gender Week 2017, GIZ Tunisia's Gender Group members invited their colleagues to be "theatrical".
Our event "Interactive Cinema" started rather conventionally with a warm welcoming by our group members Sarah Chaar and Feriel Habel and a very short introduction about this year's motto of the International Women's Day – "Women in the changing field of work: Planet 50:50 by 2030" – by Gender Focal Point Fatma Mokaddem.
We then watched together the short film "Selma" by Mohamed Ben Attia (Tunisia, 2013). This film tells the story of Selma, who is determined to take over the cab of her deceased husband. However, she will find herself in trouble between Kafkaesque administration procedures and the opposition of her mother-in-law.
The surprise came with the second short film "White Flag" by Layla Triqui (Morocco, 2013): Instead of showing the end of this film that broaches the issues of sexual harassment in the working environment of a Moroccan fish cannery, the film stopped…
… so the opportunity to speak up was given to the audience: With the helping hand of theater coach Fathi Akkari, our colleagues developed alternative scenarios and presented them through techniques borrowed from the Theatre of the Oppressed. Through this "theatrical" way to approach the difficult thematic of sexual violence against women at work, the audience becomes active "spect-actors" as whom they explore, show, analyze and transform the reality in which they are living.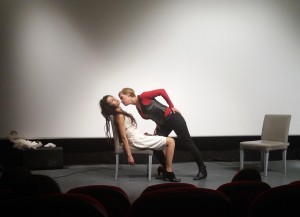 The event closed with a representation of a scene of Goethe's Faust, performed by the actresses Mariem Akkari and Haifa Boulakbech.
Thank you for the organizing team: Sarah Chaar, Amani Labidi, Feriel Habel, Hedil Fares, Fatma Driss and Olfa Arfaoui!!
Both of the two of the short films we screened were produced by the initiative "Ana Hunna":
Films have the power to encourage, move and motivate people. Films initiate questions, thoughts and discussion. Through short films on the topic of "Women and Work", GIZ's regional programme EconoWin aims to raise awareness on the current inequalities women face in the working world. Econowin therefore launched the initiative "Ana Hunna "أنا هنا, I am here, Je suis là" in four MENA countries: Egypt, Jordan, Morocco and Tunisia.
________________________________________________
Please contact Kathrin Faltermeier in case of further questions: kathrin.faltermeier@giz.de
Contact Details
Name: Kathrin Faltermeier
Email: kathrin.faltermeier@giz.de