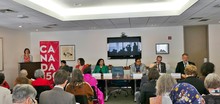 Building on the growing recognition that the role of faith-based organizations in addressing the needs of women and girls is critical, a global Platform on "Gender Equality and Religion" was launched on 15 March at the on-going UN Commission on the Status of Women.
The Permanent Mission of Canada hosted the event, with UN Women, UNFPA, DFID and International Partnership for Religion and Sustainable Development, collaborating on this new initiative.
This newly launched Platform synchronizes with UN Women's faith-based work. Using a religious lens, this Platform aims to build a unique approach of combining gender equality and faith-based principles to boost the implementation of the Sustainable Development Goals.
It will convene faith-based organizations and civil society groups, bringing together religious leaders and development experts to find ways to effectively pursue the gender-responsive implementation of the 2030 Agenda for Sustainable Development and achieve gender equality and the empowerment of all women and girls.
Knowledge sharing and advocacy are key pillars of the Platform, and the initiative will showcase best practices, data collection, tools and resources between faith and development communities, building an exchange of ideas and discussions leading to a digital library for resources, and publications.
GIZ staff may check out the German Intranet Article as well.