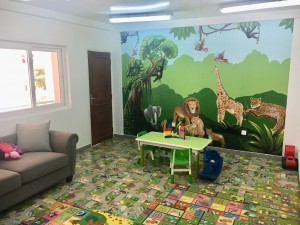 With the assistance of the GIZ Support, the Kofi Annan International Peacekeeping Training Centre (KAIPTC) has developed a comprehensive Gender Policy.
The Policy seeks to enable KAIPTC staff who are either nursing mothers or parents of young children to balance their working hours with their family lives. Its implementation is important as it should strengthen the position of the KAIPTC as a gender-sensitive institution in Africa in general and Ghana in particular. As such, the KAIPTC, with the assistance of the GIZ Support, created and officially opened an on-site Childcare Room in December. The Room includes a breastfeeding area for nursing mothers and a play area for young children between 0 and 18 months under the care of minders. If necessary, the age limit can be changed and adopted to the needs of staff and others.
As a military institute owned by the Ghanaian government, the KAIPTC sets an example in reconciliation of family and work live. An example that hopefully not only in Ghana sets a precedent but also in other African countries.
GIZ staff may check out the German Intranet-Article as well!
Contact Details
Name: Jan Grebe
Email: jan.grebe@giz.de