At GIZ India, we began the GIZ Gender Week with an action punch self-defense session!
The Risk and Security Desk of the GIZ Office organized separate sessions related to safety and self-defense techniques for both men and women. Both men and women actively participated and learnt how to defend themselves in difficult situations. Check here for more information or these glimpses at the event!
On International Women's Day the Portfolio Management Team of the GIZ Office organized a Gender Cafe, which engaged with approximately 50 GIZ colleagues on intense dialogues around Gender Equality.
During the course of the event, the GIZ India Country Director – Dr. Wolfgang Hannig, in his opening comments flagged the importance of how gender is an important goal for us to achieve not just amongst our projects but also for our company. He provided us a brief understanding of Feminism in Germany which was also very interesting to most of us in India.
The Café Host, GIZ India Gender Officer highlighted key issues pertaining to Gender Equality around the world and also broadcasted the special interview conducted with Ms. Tanja Gönner on the Gender Week to all colleagues present at the Gender Cafe. Have a look at these pictures as well!
The Gender Cafe Table Hosts were GIZ Colleagues from the different projects. The cafe atmosphere was electrifying as some Great Conversations around mugs of coffee and tea (and amazing snacks) filled the air on the various topics:
Sustainable Development Goal – SDG 5: Gender Equality
Gender Digital Divide: Empowerment of Women through Digital Technology
Gender Sensitive Communications
Women's Safety and Sexual Harassment at the Workplace
Women at Work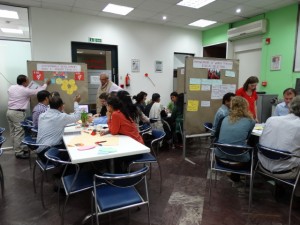 In all of the above topics, a common thread and element of the existing gender gaps, gender challenges and how to tackle issues within our system boundaries was discussed. The Cafe provided an opportunity for individuals from the different projects and programmes to think about women's empowerment and gender equality within the areas of work chosen.
The outcomes were encouraging, the mood was chaotic reflection, outspoken thoughts and challenging opinions. All of which were welcomed! The outcomes would now be also tabled in our World Cafe Event of the GIZ Annual Country Conference. This is encouraging as it allows for further platforms to think through the main results and to ensure we move towards action!
As our theme of the day was: Step it up for Gender Equality! Planet 50:50 by 2030, we saw a step in this long journey being laid out.
GIZ staff may access further information as well as pictures of the event here.
Article was submitted by Scherazade Siganporia, GIZ India Gender Focal Point.
Contact Details
Name: Scherazade Siganporia
Email: scherazade.siganporia@giz.de