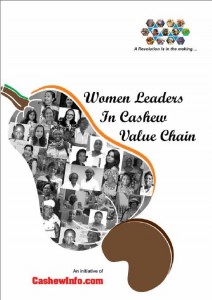 Women form more than 80% of the labour force involved in collecting raw cashews from the farm. Yet female ownership of the farm is estimated at less than 10%. Likewise, women form more than 80% of workforce in any cashew processing unit. Yet, female ownership of cashew factories is less than 5%.
TechnoServe harnesses women's entrepreneurial potential in Africa's cashew sector to create transfromative impact by teaching them how to maximize cashew farming profits, run cashew processing factories and start cashew apple businesses.
The initiative of cashewinfo.com, aims at profiling women entrepreneurs engaged in the cashew business, encouraging more women into the cashew business and identifying key enablers or inhibitors that drive or discourage women leadership in the cashew industry.
Read the full publication; each of the women profiled here have strived hard to succeed and make a difference.