Dear All
First of all, I would like to wish you all a Merry Christmas and a Happy New Year 2020.
In 2019, many of you have made distinguished and successful steps in reaching all of our goals as a focal points in our countries to support gender equality and women's rights, especially in our countries within the Middle East region. I would like to talk about the efforts that we made during the year 2019, which was full of events, as well as development activities, one of which was the demonstrations demanding to get all kinds of rights, including women's rights and against Gender- Based Violence . This year, we get the opportunity of the international campaign that ended on 10 December , we participate this activities , all our colleagues in the Baghdad-giz office participated This event, they all put on an orange scarves (the color mention to this event) rise in their hand slogans written in 4 languages ( English, Arabic, Germany, Kurdish). I would like to share with you the photos that reflect this event.
I hope that the year 2020 will be better to all of you.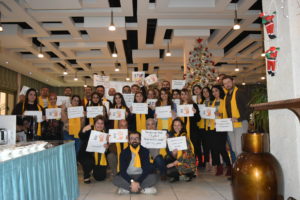 Best regards
Contact Details
Name: Aida Atto
Email: aida.atto@giz.de