Pakistan is an enormously diverse, multiethnic and multicultural society characterized by uneven development and distribution of resources. There are massive inequalities along social strata, regions, religions, gender and urban-rural manifestations. By international comparison, Pakistan is one of the countries with the highest rate of inequality between males and females. As per the Global Gender Gap Report, the country reached only the penultimate place of 145 evaluated countries, which is a continuous deterioration in recent years.
Almost half (48%) of the Pakistan's population comprises of women, so how could an increase in the economic development be expected by the efforts of only half of its' population i.e. men. The role of women is significant in the economic empowerment of Pakistan.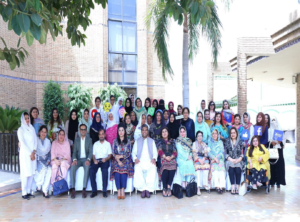 Gender – a quality feature of our work:
The significance of e-commerce and face of doing business is changing very quickly with the advancement of technology. So, we aim to equip our less privileged business women with the skills to reach out internationally and to make their presence felt.
Training Session for Less Privileged Female Entrepreneurs on Digitization:
Women entrepreneurs in Sothern Punjab in Pakistan have less opportunities in terms of using technology. Owing to the limited knowledge of social media tools and technology they had to sell their precious woven/knitted articles to the metropolitan entrepreneurs' at lowest price who end up getting high profits by selling them using e-commerce tools.
On the aftermath of this limitation and in line with the GIZ's Gender Strategy' of promoting gender equality and women empowerment through educating female entrepreneurs, we organized an event "Economy wins when women work" – E4W in Southern Punjab, in collaboration with Women Chamber of Commerce and Industry Multan Division (WCCIMD) in August 2018. The participants were trained by a female facebook certified trainer who taught them the basics of e-commerce and how to create a facebook business page for running their businesses through technology. She also trained the participants on how to use social media i.e. facebook page as an effective marketing tool for flourishing their businesses.
Gender Impact:
Overwhelming Participation:
It turned out as a huge success story as more than 100 female entrepreneurs from remote areas of Southern Punjab actively participated in the training.
Women Empowerment through Digitization:
Post that training, more than 40 female entrepreneurs are effectively using the social media for their e-commerce businesses and are running facebook business pages.
Awareness Raising of Women in Remote Areas:
It was a successful initiative for awareness raising regarding technology through digitization and also empowering women in small cities to earn.
Ease of Doing Business:
It has contributed to economic sustainability through ease of doing business for women who are not allowed to work away from home.
Role of Women in Economic Development:
It helped women to also contribute effectively in the economic development of the country.
Gender and Result Based Monitoring:
Following are few of the links of the women entrepreneurs who have started their own business pages, after participating in that training session, to sell their products online and are successfully contributing their share to the economic empowerment of Pakistan:
https://www.facebook.com/shahs-embroideries
https://www.facebook.com/A-Nees-141279149940172/
https://www.facebook.com/bemultani.official/
https://www.facebook.com/multanimahrani/
https://www.facebook.com/hm.hinnamansoor/
https://www.facebook.com/Novairas-collection-185869721556250/
https://m.facebook.com/Naseemakhtarenterprises/
https://www.facebook.com/Zubia.Zainab/
https://www.facebook.com/keepingtraditionsalive/
https://www.facebook.com/AREEBAKWL/
Contact Details
Name: Ifaza Waheed
Email: ifaza.waheed@giz.de