Women in rural areas bring about great changes every day despite many obstacles. As part of the special initiative ONE WORLD – No Hunger, seven women from Africa and Asia have been awarded for their commitment to agriculture. From now on a multimedia exhibition highlights their stories.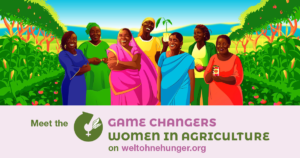 Seven women, seven inspirations
As gardeners, entrepreneurs, founders and chairwomen of farmers' organisations, the seven Game Changers have implemented and disseminated innovative approaches to agriculture in their villages and countries – on the fields or in other domains of local value chains such as the processing and marketing of rice, tomatoes or cashew kernels. With their work and their activities, the seven award winners in Togo, Benin, Ghana, India and Southern Sudan also motivate others living in rural areas to join forces to stand up for better conditions in agriculture and for the often disregarded rights of women.
A visually and thematically strong exhibition
But the road to success was not easy, and time and again the women had to brave resistance in their communities. A multimedia exhibition currently shows how the seven women managed to overcome these obstacles. The Pakistani artist Sana Nasir illustrated the colourful exhibition and thereby underlines the very personal characteristics of each individual "Game Changer". The online exhibition is accompanied by a social media campaign of numerous partners. Please find our English Social Media Kit for download here. The exhibition can be visited in three languages:
Visit German exhibition
Visit English exhibition
Visit French exhibition
"This is good and sustainable development"
The competition "Game Changers – Women in Agriculture" started in spring 2020 and was launched by the BMZ as part of the special initiative ONE WORLD – No Hunger, which was launched in 2014. Dr Maria Flachsbarth, Parliamentary State Secretary at BMZ, is the patron of the prize and says of the seven prize winners: "They have improved the food supply in India and Benin, defied the challenges of climate change in Southern Sudan. They have organised themselves in agricultural cooperatives in Togo, created new income opportunities in Ghana and established local value chains from which the local people benefit. That is good sustainable development. Their successes are an inspiration and motivation for women and girls all over the world."
The BMZ Department 121, International, Agricultural Policy, Agriculture, Innovation, is responsible for the process and the exhibition; the coordination and implementation has been carried out by GIZ's sector project Sustainable Rural Areas (Department G500 – Rural Development and Agriculture).
Contact Details
Name: Dorothea Hohengarten
Email: dorothea.hohengarten@giz.de