Update! Find the newest version of the MenstruAction publication here: FINAL-GIZ_MenstruAction-Publication-2023-03-20-WEB-SP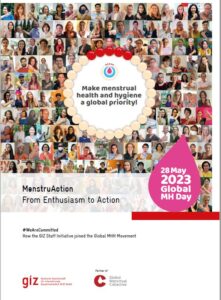 Just in time for Menstrual Hygiene Day on 28th May, the GIZ Staff Initiative MenstruAction celebrates the journey from its beginnings until today in a new GIZ publication, illustrating successes of recent years, important milestones, and a small glimpse into future ambitions. MenstruAction aims at further mainstreaming this taboo topic in the coming years. 
The GIZ Staff Initiative MenstruAction, aims to place the topic of Menstrual Health and Hygiene (MHH) more prominently within GIZ – and thereby also in German Development Cooperation as well as globally. Menstruation is still a taboo almost everywhere on earth, which restricts more than 1.9 billion girls, women and all who menstruate from reaching their full potential! Support us, make menstruation a topic in your daily work, and help make practical MHH-projects become a reality wherever you can! Sustainable social change starts on our own doorstep.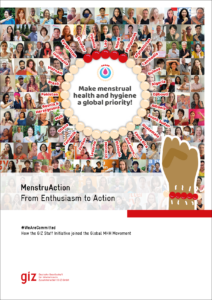 E-publication: https://gender-works.giz.de/wp-content/giz_menstruaction-publication-2022/
Contact Details
Name: GIZ Staff Initiative MenstruAction / Natalie Schmitz
Email: MenstruAction@giz.de