Event documentation: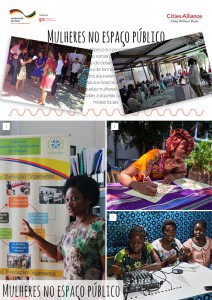 About 50 colleagues participated in the Gender Week Event of GIZ Mozambique, including some representatives from NGOs and EU delegation.
Based on a participative approach and on pictures of Mozambican women – fruit sellers, waste collectors and accountants from the Mozambican finance office – we discussed on perceptions, clichés and expectations regarding gender roles.
During the second part, we discussed with two resellers of improved cooking stoves of both gender about their experiences of decision making in families on buying carbon saving stoves: Who within a family decides to buy, who pays, and how do we avoid to involuntarily sustain antiquate role perceptions. One of the final conclusions of the Gender Week Event was, that our behaviour in public contributes to change role models, therefore to strengthen equity of all genders.
The GIZ country director Peter Pfaumann opened the event of 8th March 2017 at the Mozambican Writers Association. The event was organized by Maria Mabota (Climate Change Program), Joséphine Hébert (BGF), Pedro Conde (EnDev) and Marco Hanitzsch (Focal Person). Some of the participants continued to discuss about Gender and Public Space at the gender events of the Mozambican EU delegation at the French Cultural Center, who had chosen this year the same topic.
The GIZ Gender Week in Mozambique was also used to introduce the GIZ Gender Strategy "Género viabiliza" (GIZ staff may check out the DMS for more information) on country level and to hold a training of Human Rights based Approaches on Gender for our Gender Focal Persons. In the same week, we finished an analysis of gender representation among the GIZ colleagues in Mozambique. While among national staff there are slightly more men than women (due to the high numbers of drivers and guards), among international staff from Band 4 to 7, we have 20 percent more women than men; among Development Workers  13 percent more women. Interesting observation: At all levels – nationals and internationals, admin and advisors – women are 2 to 8 years younger than their male colleagues.
——————————————————————
When: 6 – 10 march 2017
Where: GIZ Mozambique
With: Peter Pfaumann, Maria Mabota, Joséphine Hébert, Pedro Conde, Marco Hanitzsch.