Event Documentation:
An application to prevent and fight violence against women…? …?…Yes, of course!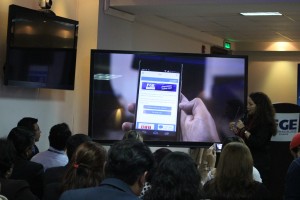 The National Corporation for Telecommunication of Ecuador (CNT-EP) presented the new design and functions of its application "Junt@s" (Together) this 8th of March 2017 on the occasion of the International Women's Day, especially for women who have been victims of gender-based violence.
CNT-EP is a public company, whose principal focus of Corporate Social Responsibility (CSR) is the prevention of violence against women. With the technical cooperation of the regional program "Fight Violence against Women in Latin America" (ComVoMujer) – implemented by GIZ on behalf of BMZ – they created an application for smartphones, which can be downloaded for free and is preinstalled on all mobile phones the company sells.
The National Prosecutor's Office (FGE) chose the 8th of March to join CNT-EP in its effort to promote the application "Junt@s" improving it at the same time by adding to important additional services: further information about the steps to report incidents and georeferencing of the closest Prosecutor's Offices are now part of the app.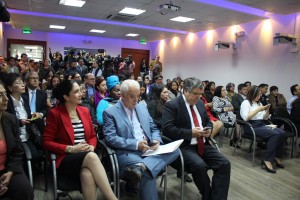 The app is a digital tool which helps its users to detect the first signs of violence against women, informs about resources and ways to get help, and also sends encouraging messages. The icon appears camouflaged; predetermined or personalized messages can be sent to a trustworthy person without anyone else being able to interfere.
Additionally, 911 can be called without any charges directly through the app.
Using the slogan "Together (Junt@s) we are responsible to prevent violence against women" CNT-EP and FGE signed an interinstitutional agreement, committing themselves "to jointly promote actions to prevent gender-based violence and to help victims through communicational measures, digital tools and other mechanisms, which facilitate their access to justice".
In case of any further questions please contact Viviana Maldonado: viviana.maldonado@giz.de
_____________________________________________________________
¿Una App para prevenir y combatir la violencia contra las mujeres? ¡…claro que sí!
Es la aplicación "Junt@s" de la Corporación Nacional de Telecomunicaciones de Ecuador (CNT-EP), que este 8 de marzo 2017 por el Día Internacional de la Mujer presentó su nuevo diseño y servicios sobre todo para las mujeres víctimas de violencia basada en género.
La CNT-EP es una empresa pública cuya principal política de Responsabilidad Social Empresarial (RSE) es la prevención de la violencia contra las mujeres. Con la asesoría técnica del Programa Regional "Combatir la Violencia contra las Mujeres en Latinoamérica" (ComVoMujer) implementado por la GIZ por encargo del BMZ, desarrollaron la app para smartphones que puede descargarse gratuitamente y que se encuentra preinstalada en los dispositivos que vende la empresa.
Por ocasión del 8 de marzo la Fiscalía Nacional del Estado (FGE) se sumó a la app "Junt@s", incluyendo dos servicios adicionales: información de los pasos para hacer la denuncia y la georreferenciación de las Fiscalías más cercanas.
La app es una herramienta útil que permite detectar los primeros signos de violencia contra las mujeres, informa sobre recursos y servicios de ayuda y cuenta con mensajes de apoyo. El ícono aparece camuflado y permite enviar mensajes a personas de confianza con textos preestablecidos o mensajes personalizados. Además se pueden realizar llamadas gratuitas al 911.
Bajo el lema "Junt@s somos responsables de prevenir la violencia contra las mujeres" la CNT-EP y la FGE se comprometieron a través de un convenio de cooperación interinstitucional en "promover acciones conjuntas para la prevención de la violencia basada en género y la reducción de la ruta crítica de las víctimas a partir de estrategias y herramientas comunicacionales y digitales de promoción u otros mecanismos que faciliten el acceso a la justicia".
Para más información en español véase la siguiente nota de prensa.
Si tiene alguna pregunta, Viviana Maldonado está a su disposición: viviana.maldonado@giz.de
————————————————————————–
When: 8 march 2017