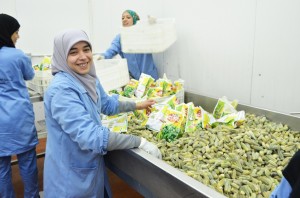 The National Employment Pact (NEP), supported by the BMZ-financed GIZ Labour Market Access Programme (LMAP) is Egypt's know-how platform for placing job seekers into fair blue collar jobs. After four successful years of offering employment solutions, LMAP is supporting the NEP to walk the talk of becoming more gender-sensitive to better integrate Egyptian female job seekers in Egypt's social and economic development. During the Gender Sensitivity Awareness Session organized by LMAP, discussions will take place and recommendations will be presented to increase the share of women currently benefiting from NEP employment services and tackle cultural barriers standing between them and their access to the labour market. 
When? March 5th, 2015, 8-10 AM
IMPRESSIONS OF THE EVENT AND BACKGROUND INFORMATION:
Despite of the many challenges females face in the Egyptian Labour market and particularly the Blue Collar job segment, the National Employment Pact (NEP) is taking substantial steps towards being a gender sensitive initiative. Through the Gender Sensitivity Awareness session organized by the BMZ-financed GIZ Labour Market Access Programme (LMAP), discussions took place that enabled the (NEP) to realize its previous indirect efforts to include a gender balance in its endeavor to place Egyptian job seekers into fair and decent jobs. The (NEP) is now aware of the necessary cost effective actions to better integrate a gender aspect in their matchmaking  employment service processes. Since the (NEP) is still growing as an initiative, its awareness on gender sensitivity will offer employment solutions to Egyptian female blue collars as well.