The BMZ-financed Participatory Development Programme in Urban Areas (PDP) of GIZ Egypt is implementing a gender fair to celebrate international women's day together with the public in general and the residents of the targeted informal areas in particular.
The NGOs PDP is working within the informal areas in the Greater Cairo Region are developing and implementing interactive activities to engage the participants in a dialogue about various topics ranging from women's contribution to the family's wellbeing and the community, gender awareness and gender equality to the relationship between men and women, and appreciation of women's work as caregivers.
We will show documentaries that explore the role of women, the challenges they face and their contribution to the family and community. Interactive workshops target children and youth to explore women and gender-related issues via arts such as theatre or drawing. NGOs will share their approach to integrate women actively in the communities and provide the space for discussion among the participants. The NGOs will furthermore showcase the handicrafts the women have produced. 
When? 14th of March 2015, 14:00 – 21:00
Where? Al Azhar Park, Cairo, Egypt 
IMPRESSIONS OF THE EVENT AND BACKGROUND INFORMATION: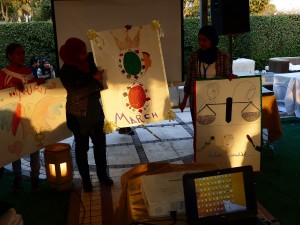 On Saturday, March 14, together with seven Grant Beneficiaries and one Local Initiative Fund Beneficiary, the BMZ-financed Participatory Development Programme in Urban Areas (PDP), organized a Gender Fair to celebrate International Women's Day (March 8) and Egyptian Women's Day (March 16). It was a full day of activities for all ages organized in Al-Azhar Park.
Over 200 participants, children, youth, women and men, from three different informal areas of Greater Cairo (Ain Shams, Ezbet el Nasr and El Warraq) joined us and participated in lively discussions and activities exploring gender and women in the Egyptian context.
The different activities explored the relationship between men and women in Egypt and triggered a discussion about male and female employment and respective gender stereotypes. Women who are engaged in entrepreneurship shared their experiences and responded to questions and comments from the audience. Children drew posters and performed a puppet show depicting the struggles of girls to access education. A documentary about women in Upper Egypt explored the challenges women face and the Initiative Ana Hunna "أنا هنا, I am here, Je suis là" which is part of a BMZ-financed regional GIZ programme on women's empowerment, Economic Integration of Women in the MENA Region (ECONOWIN), showed the short movie "Om Amira". The movie sheds light on the daily life of Halima Mohamed Ahmed or "Om Amira" (Arabic for "Amira's Mother") and explores how she bares the responsibility for her ill and unemployed husband and her paralyzed daughter. It depicts the real struggles and sacrifices of a mother in an impoverished family in Egypt to secure food, shelter and income.
Throughout the day, NGOs sold a variety of handicrafts that women have produced. At the entrance, lay a wall of praise decorated and enamoured with appreciation for daughters, mothers, sisters, wives and friends.
The day was a tremendous success and very well received by all participants. Bringing together both NGOs and residents from different informal areas from across Greater Cairo Region provided a great opportunity to start a dialogue on women and gender.