The Overseas Development Institute (ODI) invites to participate in a Webinar on "Creating an Economy that works for Women" on 21 February 2017, 14:00 – 15:00 GMT.
The session is chaired by
Abigail Hunt
 – Senior Research Officer and gender lead, Growth, Poverty and Inequality Programme and ODI Speakers are
James Heintz
– Associate Director, Political Economy Research Institute, and Andrew Glyn Professor of Economics, University of Massachusetts Amherst,
Dinah Musindarwezo
 – Executive Director, The African Women's Development and Communication Network (FEMNET),
Dr. Purna Sen
 – Director of Policy, UN Women and 
Jessica Woodroffe
 – Director, Gender and Development Network.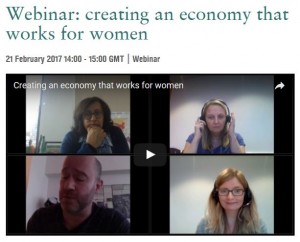 Key topics for discussion include:
– Changing work patterns and their implications for women,
– The role of governments in creating an enabling macroeconomic Environment,
– Unpaid care and domestic work,
– and identifying concrete proposals for priority action by governments at international and national level.
The webinar will be streamed live online. You are welcome to Register for the Event here.