HOME GARDENS IN YEMEN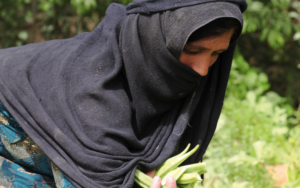 CONTEXT AND INITIATIVE
Cultural, traditional and political norms in Yemen allocate mainly caring and reproductive tasks to women; their movement is often limited to their homestead and fields. The Sustainable Food Security Program, implemented on behalf of the German Federal Ministry for Economic Cooperation and Development, succeeded in empowering Yemeni women in a culturally sensitive way: by involving them in home gardening. Activities involving women were only possible because of the trust and confidence developed between the recipient communities and the service providers (GIZ/GFA) through cash for work activities in rural communities. As such, women's empowerment took place within the framework of locally accepted gender roles and with the full acceptance of families and communities as a whole.
Aiming at relieving persistent food insecurity, which has been aggravated since the Arab Spring in 2011, the main idea of the project was to translate women's time and labour into direct contributions to their families' food security. Women were trained to establish small gardens and grow nutritious vegetables in their local environments. Simple practices like the use of local seeds, animal manure, kitchen waste water, botanical concoctions and crop rotation were promoted. The women also received training on hygiene, healthy cooking practices, balanced diets and the consequences of diets lacking proteins, Vitamin A or iron.
The home gardens project was designed as a complementary measure to infrastructure- based cash-for-work activities carried out by men in rural communities
GENDER – A QUALITY FEATURE FOR OUR WORK
The best evidence for the quality of our work is the limitless motivation and satisfaction shown by the women. They say: "The gardens are a wonderful tool to keep my family healthy, to save cash and time in the hospital". The success story of this well-accepted approach was shared through local food security and nutrition platforms, attracting visitors from the local government, BMZ, other donors and NGOs. Some NGOs such as Islamic Relief and the French PU-AMI have already adopted the approach. Furthermore, GFA Bridges has provided follow-up funding for a youth volunteer initiative to continue supporting the establishment of home gardens.
GENDER IMPACT
The project was originally designed as an emergency measure, but unfolded lasting impacts on family health and nutrition by strengthening women's role within the household and community. Women are no longer victims of the food crisis! They have become active in combating their families' food insecurity. From March to May 2013, the peak of Yemen's so-called 'hungry season', about 400 women in Hodeida Governorate planted gardens. They succeeded in improving the diets of about 2800 people, including 700 under five-year-old children and 225 pregnant or lactating mothers, who are particularly sensitive to the negative impacts of malnutrition.
Due to this communities have accepted the election of female members into their development committees – thus, a forum has been created for women to articulate their needs, participate in public affairs and to influence development in their communities!
Contact
Catrin Schreiber
Sustainable Food Security Program
T: 0049 40 60306 156
E: catrin.schreiber@gfa-group.de
I: www.foodsecurity-yemen.org
Kristina Willebrand
Gender Focal Point Yemen
T: 00967 736555269
E: Kristina.Willebrand@giz.de