SUPPORT TO PUBLIC FINANCE REFORMS (SPFR) PROGRAMME, KENYA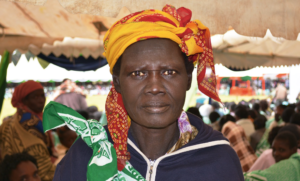 CONTEXT AND INITIATIVE
The public procurement sector in Kenya is mostly male dominated. Female procurement officers are lowly ranked and women often unable to access procurements, and/or unaware of procurement opportunities to start with. Business women cite corruption, credit availability and access to tenders as hindrances to their success. The SPFR programme assists the reform of the public procurement system by e.g. enhancing the capacity of practitioners and individuals involved in Public Procurement.
In order to empower women to participate and thus enhance gender equality in this sector, SPFR organized stakeholder forums with over 600 women to discuss and come up with objectives to improve women's involvement in Public Procurement. These included the goal to increase the number of contracts won by female-owned businesses from less than 1% in 2012 to 20 % by 2016. Other goals are to enhance competition by introducing more female players to procurement, to increase the number of women holding higher positions to 30 % by 2016, and to improve the legal framework and bid procedures. A strategy was developed accordingly.
GENDER – A QUALITY FEATURE OF OUR WORK
The target group's reaction has been enthusiastic. There is a high demand for capacity development among business women, and therefore the initiative is encouraging other organisations to use the existing materials and concepts to conduct their own capacity development activities. The achievements of the initiative were officially recognized by the President of the Republic of Kenya and his deputy during a thanksgiving function in 2013, which was taken note of by the media, civil society and donor organisations.
GENDER IMPACT
27 specific training sessions for 1240 business women were conducted in 2013/2014.
• 93.6 % of the participants felt that they were more knowledgeable about public procurement procedures after the training.
• 68 % of the participants were able to prepare bid documents.
• 24 % of the trainees registered their enterprises within 2 months after the training.
• 76.3 % of the participants submitted tenders within 3 months after the course.
A five-day training and a mentoring schedule for female officers were also created. Four training sessions with 149 participants were organized in 2013/2014. As a result of all the procurement training programmes since 2011, 72 % of the female officers who are registered as members of the professional procurement body had participated in procurement courses by the end of 2013. In addition, 46 % were in higher procurement positions by the end of 2013.
A regulation gazetted in 2012 reserves 30 % of government contracts to enterprises of youth, women and persons with disabilities. Also in 2012 a register and registration mechanism was set up for women-owned businesses to participate in procurement. In 2013, the treasury recorded a 70 % increase in registration and a programme giving women-owned enterprises faster access to credits after they have been awarded a contract was launched.
Contact
Mathias Muehle
SPFR Programme
P.O. Box 41607-00100 Nairobi
T: +254(0)722205170
E: mathias.muehle@giz.de
I: www.giz.de