GIZ CIVIL PEACE SERVICE IN CAMBODIA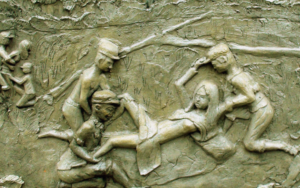 CONTEXT AND INITIATIVE
The mass crimes committed by the Khmer Rouge in Cambodia in the period of 1975 to 1979 are well known. Under the command of a radical communist regime, the entire country was transformed into a labor and prison camp where more than one Million people perished. Less known is the fact that many women were raped, forced into marriage, sexually mutilated and/or tortured. Today, a hybrid-international tribunal and a number of civil society initiatives were set up to deal with the past. The GIZ Civil Peace Service (CPS) in Cambodia is cooperating with many of these projects to contribute to justice and reconciliation. Many women supported by CPS partners were able to break their silence after decades. To them, the collection and publication of their experiences is equivalent to an acknowledgment of this violence as crimes and the appreciation of their persons without discrimination.
Together with its partners, CPS has accomplished ground-breaking work in addressing sexual violence against women during the Khmer Rouge regime. Through research studies, films, publications, radio shows, Women's Hearings and an internet platform, CPS and its partners contribute to giving a voice to the victims of sexual violence and to including their stories in the historic record.
GENDER – A QUALITY FEATURE OF OUR WORK
The documentation process has resulted in an increased awareness among CPS partners. The work of CPS and its partners was frequently featured in local and international media. Project evaluations have shown that the issue of sexual violence during the Khmer Rouge regime is now much better known and more discussed among civil society organizations and the Khmer Rouge tribunal.
GENDER IMPACT
The documentation of sexual violence in the past helps fight the taboo surrounding gender crimes. Records of experiences of other women encourage today's victims of sexual violence to break the silence and claim the rights and dignity they are entitled to. Victims of sexual violence who participated in the documentation process feel a sense of justice. Others feel empowered to see that they are not the only ones to have experienced sexual violence and who are combating the consequences. To provide evidence and prompt the international community and individual states to intervene against and prevent sexual violence, experiences are documented and published worldwide. Through the documentation of its own history, Cambodia makes an important contribution to the international movement against sexual violence in conflict.
Contact
Marcos Smith, GIZ Civil Peace Coordinator
St. 306 No. 17, Phnom Penh, Cambodia
T: +855 23 72 63 44
E: marc.smith@giz.de
I: www.ziviler-friedensdienst.org
http://giz-cambodia.com