PROMOTING MEN'S ENGAGEMENT IN BIRTH PREPAREDNESS IN CENTRAL ASIA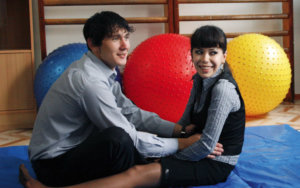 CONTEXT AND INITIATIVE
In Central Asia, religion and traditionstrongly influence societal behavior, especially when it comes to power relations and gender perceptions. Firmly established family hierarchies impact virtually all aspects of life. In the field of Sexual and Reproductive Health and Rights (SRHR), precisely in aspects of Family Planning (FP), they may have negative implications when they hinder spousal communication and joint-decision making. Family members often considerably influence decisions about home or institutional deliveries, contraception, number of births and birth intervals. Women have little power to express their ideas of family life. Short birth intervals and high birth orders consequently adversely affect their health and that of their children.
The regional Programme Health in Central Asia contributes to improvements in SRHR in the partner countries Kyrgyzstan, Tajikistan and Uzbekistan. Promoting gender equality is both a designated programme goal, and critical to improve maternal and child health. GIZ supported partners to establish Birth Preparedness Schools (BPS) and partnership in delivery. BPS instructors, mothers-in-law and husbands, are trained on SRHR and gender. Using interactive teaching methods and materials, they stimulate discussion, raise awareness and encourage reproductive behavior change. They promote couples' access to professional FP counseling centres to enhance reproductive health and gender equality.
GENDER – A QUALITY FEATURE OF OUR WORK
Dedicated to transforming gender roles, the Programme incorporates gender into its impact monitoring system. The Gender Focal Point coordinates the development, implementation and quality control of its gender strategy. Emphasising gender capacity development internally and externally, GIZ conducts regular participatory Gender Workshops to sustainably anchor gender sensitivity and competence across the three country teams and their political and implementation partners at the national and regional levels.
GENDER IMPACT
Improving SRHR and promoting gender equality are mutually reinforcing, thus providing a unique opportunity to tackle both objectives simultaneously. By bringing pregnant women and
husbands together to prepare them for childbirth, BPS are shaping a culture of treatment and care in pregnancy. Trained couples significantly improved their knowledge of pregnancy, danger signs in pregnancy and delivery, postpartum life, and newborn care. They also acquired valuable practical skills, such as relaxation and pain relief methods, position and breathing during labour, and newborn care. By shaping health behavior, couples' knowledge improves maternal and child health, thus ad-vancing progress towards Millennium Development Goals 4 and 5. Evidenced by an increasing number of husbands attending deliveries, the programme promotes spousal communication and joint decision- making to advance gender equality, bringing the region closer to attaining MDG 3.
Contact
Evi-Kornelia Gruber, Director
Regional Health Programme in Central Asia
Deutsche Gesellschaft für
Internationale Zusammenarbeit (GIZ) GmbH
Bokonbaeva Street 220
720017 Kyrgyzstan, Bishkek
T: +996 312 90 90 93
E: evi.gruber@giz.de
I: www.giz.de www.health-centralasia.org
Ernest Robello
Team Leader GIZ Health Uzbekistan
& Gender Focal Point
E: Ernest.robello@giz.de