GIZ'S COLLABORATION WITH SADC IN GENDER MAINSTREAMING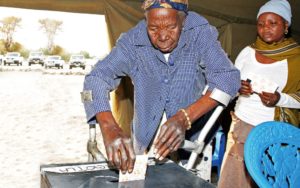 CONTEXT
Achieving politically stable, socially just and sustainable economic development that reduces poverty is one of the greatest challenges in Southern Africa. The Southern African Development Community (SADC) is an alliance of 15 countries that takes on this challenge. Their shared objective is to develop solutions to transboundary challenges within the region. Inherent to GIZ's collaboration with SADC are the quality factors of gender sensitivity and gender mainstreaming. Interventions towards Gender Equality are implemented in the GIZ-SADC Portfolio through five programs.
INITIATIVE
The GIZ-SADC Program for Institutional Strengthening advises and supports the SADC Gender Unit by mainstreaming gender in all SADC Directorates. This is achieved by supporting awareness raising and mainstreaming activities, such as the annual planning and member state outreach of SADC Gender Unit. The GIZ-SADC Programme for Peace, Security and Good Governance aims to improve political integration be-tween SADC member states, in close collaboration with the SADC Organ for Politics, Defence and Security Cooperation. Gender is an important component in the area of peace and security worldwide, as women are amongst the most negatively affected by wars and conflict.
The GIZ-SADC Transboundary Water Management Programme in SADC aims to strengthen the human, institutional and organisational capacities of the SADC-Water Division, and selected River Basin Organisations for the coherent implementation of transboundary cooperation in water management under consideration of gender mainstreaming. An overall gender mainstreaming guideline for River Basin Organisations is being developed and gender sensitisation workshops are organised. The GIZ-SADC Programme for Transboundary Use and Protection of Natural Resources in the SADC region actively promotes gender equality in its community-based, cross-border pilot projects in transfrontier conservation areas. The programme ensures for example that women and youth benefit equally from incomegenerating activities, such as in the development of cross boarder tourism products.
The GIZ-SADC Promotion of Economic Integration and Trade Programme identifies – and seeks to overcome – major impediments to providing microfinance services and works towards better functioning credit information sharing arrangements. This is particularly significant for women, as they are less likely than men to have access to formal financial services.
IMPACT
Impact of GIZ's work can be measured at various levels. A successful implementation of the SADC Protocol on Gender and Development was achieved, for instance, in Zambia by involving all line ministries in a series of training sessions, focusing on gender mainstreaming, gender sensitive budgeting and the protocol itself. As a result of that other member states requested similar activities.
Contact
Philipp M. Goldberg
Gender Focal Point for GIZ / SADC Portfolio
GIZ – SADC Project Office
Private Bag X12 (Village)
Gaborone, Botswana
T: +267 72 30 50 22
E: philipp.goldberg@giz.de
I: www.giz.de/en/worldwide/331.html