SUPPORT OF MEASURES TO STRENGTHEN THE PEACE PROCESS IN NEPAL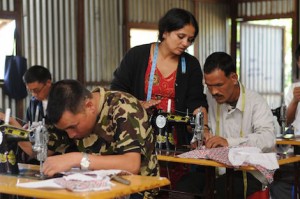 CONTEXT AND INITIATIVE
Gender inequality was one of the root causes of 10 years of armed conflict in Nepal. In the current post-conflict context, the Nepali-German Support of Measures to Strengthen the Peace Process (STPP) has been able to bring about a shift in the mindset of the target groups, transforming the roles of men and women in select communities.
Although Nepal traditionally has a patriarchal structure, men are beginning to take on household chores and women are empowered to perform male dominated activities.
From 2012 onwards, the project has been active in several areas. STPP has been supporting the reintegration process of ex-combatants in selected communities, by focusing on skills development and conflict mitigation. In addition, STPP carried out gender sensitive measures by mobilizing women and men and organizing them into groups. Tailor-made capacity development measures enabled them to take charge of their social and economic empowerment. STPP also involves men in various awareness raising campaigns around issues related to women's rights and health.
By conducting a gender analysis, STPP was able to design activities in a way that takes the situations of men and women into account equally. Furthermore, gender sensitive indicators helped to monitor gender mainstreaming activities and the results achieved for more gender equality. The Gender Quality Circle, comprised of the gender focal persons of all GIZ supported projects in Nepal, has held a key function in ensuring the quality of gender mainstreaming.
GENDER – A QUALITY FEATURE OF OUR WORK
The effectiveness and efficiency of the gender-sensitive delivery approach has convinced many local NGOs to follow similar modalities. The project is an active member of relevant coordination groups and was thus able to collaborate with many national and international organizations. Notably, the gender-sensitive approach of the project has led to a co-financing agreement with the Royal Norwegian Embassy.
GENDER IMPACT
Through informed choices, training and opportunities, women and men, ex-combatants and community members have moved beyond their confined roles and settings. Women now stand on an equal footing with men, and are involved in farming activities, fixing pipes, repairing mobiles, and medically treating animals. Men, on the other hand, work alongside women and share in their household chores.
The national average of women in vocational occupation being around 5 %, STPP was able to achieve a great success by increasing women's participation in the labour market to 25 % in its partner communities, out of which 62 % are self-employed. At the community level, men used to be the dominant actors in meetings, work and decision making processes. Nowadays women's presence and participation (almost 40 %) is equally felt in community activities. Men's support to empower their wives, sisters and daughters has become stronger.
Contact
Sushma Bajracharya
Milu Shree Shakya (Maskey)
Support of Measures to Strengthen the Peace
Process in Nepal
Neer Bhawan, Sanepa
P.O. Box 1457, Lalitpur
Kathmandu, Nepal
T: +977 1 5539129
E: sushma.bajracharya@giz.de
milu.shakya@giz.de
I: www.giz.de/nepal
CONTEXT AND INITIATIVE