Documentation of the Event: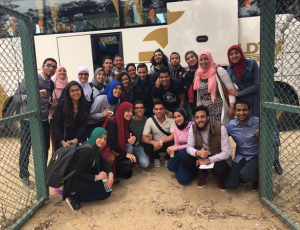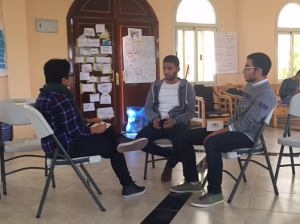 IFMSA & New Imprint Foundation Training (GIZ Egypt) – 24 university students from 10 Egyptian governorates have successfully participated in a three-day intensive training programme on campaigning to combat sexual harassment.  The training programme included presentations on violence against women in Egypt and the history of sexual harassment there, interactive group discussions on gender roles and root cause analysis of the problem as well as personal reflections and video screenings. Furthermore, the students were provided with hands-on coaching sessions on campaign design, evaluation tools, creative approaches and best practices to conduct on-campus campaigns to combat sexual harassment. By the end of the training 10 teams designed community-oriented action plans to raise awareness on sexual harassment among their peers. Throughout the month of April 2016, 10 universities will be witnessing creative actions to raise awareness on the topic such as online campaigns, students' workshops, theatre performances, movie screenings and public seminars.
 —————————————————————-
When: 9 – 13 March 2016
Where: Health and Hope Oasis, Cairo-Alexandria Desert Road, Egypt
With: IFMSA Egypt
What: Training for 22 university students and active team leaders from IFMSA Egypt on gender and combating sexual harassment through creative youth-friendly campaigns.
In 2015, a TOT Manual titled "Creative Approaches to Educate and Raise Awareness on Sexual Harassment in Egypt" was developed in a participatory process with the Egyptian Ministry of Youth and Sports and various key civil society organizations and youth initiatives. As a result of this process a team of 26 professional youth trainers from several Egyptian governorates have been trained on raising awareness on sexual harassment using creative tools, incl. sports and arts. In 2016, the pool of trainers and youth advocates against sexual harassment should be enlarged.
IFMSA Egypt is one of the largest students' organizations reaching out to thousands of medical university students in over 15 governorates across Egypt. 22 young men and women from Upper Egypt, Greater Cairo, the Delta and Ismailia will be educated in a four days residential training programme with focus on topics such as violence against women, deconstruction of gender stereotypes, analysis of root-causes of the problem of sexual harassment in Egypt, presenting the most successful youth campaigns combating sexual harassment and supporting the participants in creating community-oriented campaigns to be implemented after the training.
The training programme will take place at the "Health and Hope Oasis" in the outskirts of Cairo offering the participants of the programme a relaxed and motivating learning environment. Once the training is completed, university students are expected to return to their communities and implement creative activities and campaigns to raise awareness on sexual harassment among their Peers.