In December 2021, the German government committed to a feminist foreign policy. Under this backdrop, in March 2023, BMZ will launch the Feminist Development Strategy and the Federal Foreign Office will launch the Guidelines for Feminist Foreign Policy. This policy will set precedence on how GIZ will keep working and engaging with partners, also here in Pakistan.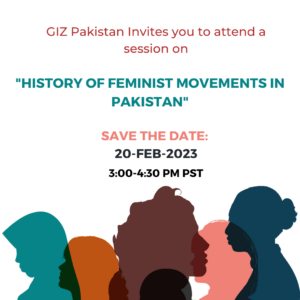 This has raised a lot of questions in Pakistan: What is feminism? Who is a feminist? Are you a feminist? Should we all be feminists? Can we openly discuss about feminism?
While feminism in Pakistan is viewed as a 'western concept', women's struggle in the Sub-Continent dates back to the colonial era when they fought for their liberation and, later, their self-emancipation after the independence of Pakistan. South Asian feminists have contributed significantly through academics, street politics and the enactment of pro-women laws, due to which many past and present generations of women today have the right to education, economic opportunity and political participation.
To kick-start the conversation at GIZ Pakistan about 'Feminism', we are excited to invite you to an open discussion with leading Pakistani grassroots feminists and women's rights activists on the theme 'History of Feminist Movements in Pakistan'.
Save the date: Monday, 20th February 2023, from 2:00 to 3:30 pm PST (11:00 to 12:30 CET) and join us through MS TEAMS (see link below). The profiles of guest speakers will be shared with you a week before the webinar, so stay tuned.