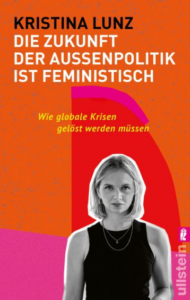 Liebe Kolleg*innen, 
das SV Menschenrechte, die GIZ-Genderbeauftragte und das KC 4C10 Rechtsstaat, Menschenrechte, Gender und Sicherheit laden zu einer virtuellen Lesung mit anschließendem Gespräch mit Kristina Lunz am 13. März um 16:00 Uhr ein. Die Veranstaltung findet im Rahmen der Genderwoche (GIZ Gender Focus – March 2023) statt. Kristina Lunz wird für uns aus ihrem Buch "Die Zukunft der Außenpolitik ist feministisch: Wie globale Krisen gelöst werden müssen" lesen.  
Kristina Lunz ist Mitbegründerin und Mit-Geschäftsführerin des Centre for Feminist Foreign Policy (CFFP). Nach einem Bachelor in Psychologie erhielt sie ihren ersten Masterabschluss MSc Global Governance and Ethics in London und absolvierte einen zweiten Masterabschluss in Diplomatie als Vollstipendiatin an der Universität Oxford. Nach ihrem Abschluss arbeitete sie u.a. für die Vereinten Nationen in Myanmar und für eine NGO in Kolumbien. Kristina hat diverse aktivistische Kampagnen (mit-)initiiert und etliche Auszeichnungen sowie Fellowships in renommierten Institutionen erhalten. Sie ist Mitglied der Advisory Group der Goalkeepers Initiative der Bill und Melinda Gates Foundation und wurde 2019 von Forbes zu den "30 under 30" in Europa und DACH ernannt. Ihr Bestseller "Die Zukunft der Außenpolitik ist feministisch" (Ullstein/Econ Verlag, 2022) wurde breit rezipiert. Kristina und ihre Arbeit werden regelmäßig in diversen Medien wie Vogue, Spiegel, ZDF oder auch The Guardian vorgestellt. 
Im Anschluss an die Lesung werden wir mit Sheena Anderson vom CFFP das Gespräch weiterführen. Sie ist Politikwissenschaftlerin mit einem speziellen Fokus auf Schwarzen und intersektionalen Feminismus, Klimagerechtigkeit und geschlechtsbasierter Gewalt während und nach Konflikten. Seit 2020 arbeitet sie beim CFFP, seit Herbst 2021 als Projektmanagerin für die Programmbereiche Antirassismus und Klimagerechtigkeit. Außerhalb ihrer Arbeit bei CFFP ist Sheena Anderson als Klimaaktivistin beim Black Earth Kollektiv aktiv und hat eine Ausbildung als Anti-Bias Trainerin sowie langjährige Erfahrung in der politischen Bildungsarbeit. Sheena Anderson wird einen Einblick in die Umsetzung der bestehenden Kooperationsvereinbarung zwischen dem CFFP und dem SV Menschenrechte zur "Förderung der Menschenrechte von Frauen und LGBTIQ+-Personen im Rahmen der Agenda Frauen, Frieden und Sicherheit" geben und mit den Teilnehmer*innen diskutieren, warum Solidarität zwischen diesen und weiteren benachteiligten communities unabdingbar für Frieden und Menschenrechte im Rahmen künftiger feministischer EZ sind.    
Die Veranstaltung wird in deutscher Sprache stattfinden. 

Wir freuen uns auf Ihre/Eure Teilnahme!  
Mit feministischen Grüßen,  
Linda Helfrich (SV Menschenrechte) 
Angela Langenkamp (GIZ-Genderbeauftragte) und 
Martina Bail (KC 4C10) 
Hier klicken, um an der Besprechung teilzunehmen