Forests play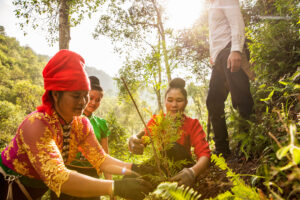 a central role as natural carbon sinks in Viet Nam's goal to reach net-zero emissions by 2050 as they cover 42 per cent of the nation's land area. However, forest quality remains poor, species diversity is low, forests are subject to storm damage, which are exacerbated by climate change. While political will exists, a transition to sustainable climate-friendly forest management has not yet taken place in practice as forest owners lack experience and financing.
While women make substantial contributions to the forestry sector – as laborers, employers and business owners – they often lack access to social and health insurance and contribute under unfavorable working conditions. Moreover, they often lack decision-making power in forest companies and in forest households, although they are disproportionally affected by changes in the forest management.
To address these challenges, two trainings on gender in forestry will be held in Binh Dinh province at the end of February and the beginning of March. In the training forest owners and other key stakeholders will learn about gender, gender equality and women's rights. This will be linked with reflections on the importance of women for Vietnam's forests and sustainable forest management. In addition, training participants will get to use a gender analysis tool that will allow them to mainstream gender into their Sustainable Forest Management Plan.
This intervention is conducted in the framework of the BMZ financed programme "Upscaling Sustainable Forest Management and Certification in Viet Nam" that is implemented together with the Vietnamese Ministry of Agriculture and Rural Development (MARD)​​​​​​​.