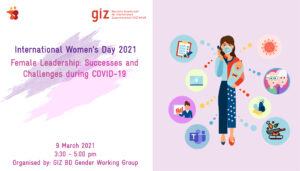 This year the International Women's Day theme for GIZ BD is "Female Leadership: Successes and Challenges during COVID 19". The event will highlight how COVID-19 impacted women leaders, especially their successes and challenges during the pandemic. Three women leaders – Ms Esrat Karim Eve, Founder and Director of AMAL Foundation, Ms Shahanaj Akter Putul, Rider of Gloria Jeans and Ms Eti Biswas, Rule of Law, GIZ – will share their experiences in the event. GIZ BD Gender Working Group (GWG) is organising the webinar on 9 March 2021 from 3:30 pm to 5:00 pm.
Documentation
Dr. Angelika Fleddermann, Country Director of GIZ Bangladesh in her opening speech, welcomed her colleagues and the three guest speakers to the event. She was pleased to share that along with the Women's Day being celebrated by GIZ BD, three projects namely REEEP, SMP and RoL are also celebrating the day. REEEP hosts a webinar on women's role in building energy consciousness; SMP ran an awareness campaign for rural women on dealing with COVID 19; Rule of Law is running three Television Commercials that show how the paralegals can help prisoners and their families to escape jail terms or resolve conflicts through mediation. The CD's speech was followed by Nina Clausing's, Head of Finance and Administration, heartwarming speech. She said women can be successful leaders when they are science driven, hardworking and courageous.
Sandwip Kumar Mondol, UMIMCC II, enthralled the audience with the recitation of the Bangla poem "Nari" by Kazi Nazrul Islam, the national poet of Bangladesh (also known as Rebel poet).
Ms. Shahanaj Akter Putul, Guest Speaker, Rider of Gloria Jeans shared her inspiring journey from starting a tea stall business that eventually led to her becoming a rider for Uber and Pathao and finally a female delivery rider for Gloria Jeans. She fought against all odds, social norms and traditional family values.
Ms Esrat Karim Eve, the second guest speaker, Founder and Director of AMAL Foundation, awed the audience with her life experience that triggered her to establish the foundation that supports the people in need. AMAL responds to emergency crises, educates children, seeks to improve their health and empower women. She observed that suppression of women is prevalent both at the grassroot and the upper level of the society and aspires to see more women in leadership roles.
The final guest speaker was our GIZ colleague Ms. Eti Biswas, Rule of Law, GIZ, who shared her life experience of being a single mother and how GIZ has supported her to know her rights and strengths and make her a successful woman and mother. She said she was impressed with the office rules and regulations that provide safety and opportunities for women.
The topic of "Female Leadership: Successes and Challenges during COVID 19" was further elaborated with a presentation by Ms Marufa Haque, Rule of Law, GIZ. The event ended with the closing remarks of Angelika, who thanked all the guest speakers and colleagues for participating in the event. On behalf of GIZ BD, she expressed her heartfelt gratitude to Mehzabin Ahmed, Chair of the GWG, for her years of astounding contribution to gender mainstreaming for GIZ BD and gave her best wishes for her new journey.
Amreen Rahman and Krishna Chanda moderated the event.
Please find below a funny video that was used in the presentation to show a common challenge during COVID-19: