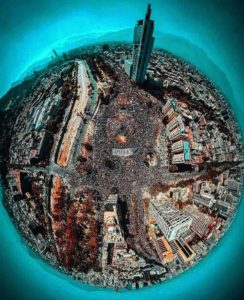 The unequal treatment based on one persons sex, is a common and transversal phenomenon throughout the world, an injustice that we must fight for every day, particularly on International Women's Day on which people all over the world have been campaigning for the lack of women´s rights.
As part of the activities of the giz gender week and in the framework of the International Women's Day, GIZ Chile invited the staff to a dialogue on stereotypes about the category "gender", forms of discrimination and violence.
After a shared lunch with contributions from the participants, the progress regarding gender equality in GIZ Chile was presented: The "Plan Público-Privado Energía+ Mujer", promoted by the Ministry of Energy of Chile:
The (GIZ) was part of the 52 actors of the energy sector, among them 21 organisations and institutions and 31 companies, that signed the Energy+Women program, in which some of the commitments acquired aim at having each company design and implement diversity and inclusion strategies, measure the salary gap and promote female leadership. It is worth reviewing it!
Not only is the lack of rights an issue for women, but even more so the gender-specific violence that takes many forms, such as "symbolic violence" in the form of stereotypes that present and impose a single model, making the diversity of identities invisible, describing a social relationship where there is a "dominator" who exercises a mode of indirect violence against the "dominated".
The thematic afternoon offered participants ideas to reflect on gender stereotypes in the marketing and advertising industry, and forms of violence that the groups developed, such as physiological, psychological, verbal, sexual, and economic violence, facilitating an exchange of experiences.
In appreciation of the participation during this afternoon, "phrases of famous women" were shared as part of a lottery: the first prize was a membership in the library of the Goethe Institute and the second prize was a current book in Spanish. Two colleagues dedicated to the maintenance and functioning of our main office won the prize.
The results, infographics and the World Health Organization's definition of violence can be found at DMS, as well as the Chilean government's lists of women's centers.