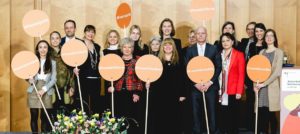 There is still a lot to do in the field of women's rights and gender equality, both internationally and in the Federal Foreign Office. "Women's rights are one of the most pressing political issues of our time," said Foreign Minister Heiko Maas.
How can Germany and its partners do more in their foreign policy work to foster women's rights and gender justice? And how can gender justice be improved in the Federal Foreign Office? These are the main questions being addressed at the event, Equal Rights, Equal Opportunities, hosted by Foreign Minister Maas in the Federal Foreign Office today. Maas says that the two topics are closely linked: "We are talking about two sides of the same coin if we aim for more gender justice with our foreign policy while simultaneously striving for more gender justice within the Federal Foreign Office."
At the start of the event, Maas said: "A Chinese proverb says: 'Women carry half of the sky'. But I think, above all, they bear the brunt of hell."
Foreign policy engagement – women, peace and security
The most frequent human rights violations currently occur against girls and women. Sexual violence is used as a weapon in many conflicts around the world. Implementing the United Nations' Women, Peace and Security Agenda is thus at the heart of Germany's foreign policy engagement in this field. The aim of the agenda is to protect women's rights and to include women as equals in resolving political conflicts.
International achievements in the field of women's rights must be defended and further measures taken. For example, gender‑just guidelines on transitional justice and security sector reform have been developed, while in the future all aid projects are to be evaluated on the basis of whether and how they promote equality and inclusion because, as Maas pointed out, "wherever women play a greater role, the tendency to aggressiveness and violence declines".
150 years of the German Foreign Office – and where were the women?
The Federal Foreign Office also needs to do a great deal more to achieve gender justice. "Even in the ministry's 151th year, not even a fifth of our missions abroad are headed by a woman," Maas said. By the same token, both men and women in the ministry must be able to look after their families without this having an impact on their career.
Gender justice does not only play an important role in the Federal Foreign Office around the time of International Women's Day. The aim is to increase the percentage of women in senior positions and to aim for a balanced gender ratio when recruiting new staff. The Federal Foreign Office's partner institutions must ensure that women account for at least 30% of panel members and guests at events. The Federal Foreign Office has set itself a higher quota, namely 40%. The ministry describes these and further measures in the report "Gender Justice in the Federal Foreign Office and German foreign policy".
Multilateralism as an instrument for women's rights
The opening of the event by Foreign Minister Maas was followed by a discussion on multilateralism as an instrument for women's rights between Dr Bärbel Kofler, Federal Government Commissioner for Human Rights Policy and Humanitarian Assistance at the Federal Foreign Office, Dubravka Šimonović, UN Special Rapporteur on Violence against Women, Isabelle Poupart, Minister and Deputy Head of Mission at the Canadian Embassy to Germany, and Sebastian Groth, Head of Policy Planning Staff at the Federal Foreign Office. The panel discussed how close cooperation between countries, civil society and the UN can help to develop women's rights further multilaterally and to work towards a gender‑just society.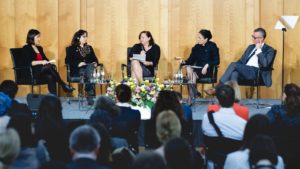 Strengthening gender justice in the FFO and worldwide, © Xander Heinl/photothek.net
Panel discussion on multilateralism as an instrument for women's rights.© Xander Heinl/photothek.net