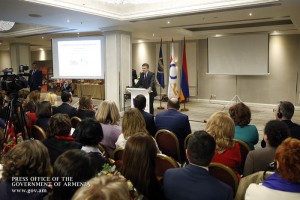 Event Documentation:
 "The Best Women Entrepreneurs 2017" Award by the RA Prime Minister and the opening of the Expo-Fair in support of women entrepreneurs took place on after the GIZ Gender Week.
The annual award ceremony is implemented under the auspices of the RA Prime Minister, with support of the RA Ministry of Economic Development and Investments. The event  was organised  by the "Small and Medium Entrepreneurship Development National Center" Foundation (SME DNC).  The Asian Development Bank (ADB), the EU-co funded "Support to SME Development in Armenia" (SMEDA) project implemented by the Deutsche Gesellschaft für Internationale Zusammenarbeit (GIZ), and the USAID/PRP program funded by the USAID have provided financial support to the organisation of the Award Ceremony.
This year's award ceremony was accompanied by a two-day expo-fair – initiated by the Asian Development Bank, with support from the English Speaking Association.
The RA Prime Minister Karen Karapetyan welcomed the participants and awarded the prizes to women entrepreneurs. The following female entrepreneurs were awarded the RA Prime Minister's Award in 6 categories:
1. "The Best Woman Employer" category 
Araksya Martirosyan – Yerevan city, IAB International Academy of Business
Irina Chibukhchyan – Yenoqavan village, Tavush Marz, "Apaga Tour" tourism activity
2. "The Best Woman Innovator" category
Marina Grigoryan – Yerevan city, "The Little Einstein" children's home labs
Narine Khojoyan – Idjevan town, Tavush Marz. "Berq" company: based on modern technologies – production of strawberry, strawberry seedling and blueberry using hydroponic methods, in membrane-covered greenhouses and in open ground.
3. "The Best Brand by Woman Entrepreneur" category
Zaruhi Muradyan –  Yerevan city, «Zara Wines» brand Wine production.
Margush Muradyan: Gavar town, Gegharkunik Marz, ANGRET brand, better known as Margush's gata. Production of Gavar's traditional gata and pakhlava.
4."The Best Young Woman Entrepreneur" category
Irina Saribekyan – Yerevan city, public catering, Japanese cuisine: "Sushi Toria" trademark
Nelly Poghosyan – Amasia village, Shirak Marz, lavash bread production, which was the first in her native village
5. "The Best Start-Up Woman Entrepreneur " category
Hasmik Harutyunyan – Yerevan city, «YES! Republic» children's intellectual club.
Nelly Amirkhanyan – Koti village, Tavush Marz, bread/cereals production.
6. "The Best Exporter Woman Entrepreneur" category
Maria Soboleva – Yerevan city, Honey production. Exporting to Russia and the Benelux countries.
Nelly Nersisyan  – Mastara village, Aragatsotn Marz, "Mastarachedo" Company: cheese production. Exporting to Russia.
Pictures:
_________________________________________________________________
When: 16 March 2017
Where: Armenia Marriott Hotel.