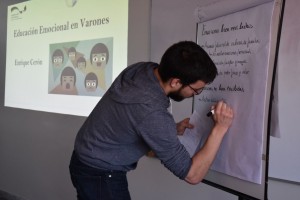 El pasado 19 de marzo tuvo lugar el Taller de inteligencia emocional para la construcción de nuevas masculinidades organizado por el GT Género.
Este evento estuvo dirigido a los hombres de la GIZ con el objetivo de brindar herramientas para identificar las habilidades socioemocionales en la población masculina con respecto al conocimiento de sí mismos y sus emociones, así como para el manejo del enojo y la ira.
El evento contó con una asistencia de 11 participantes, en el que el facilitador psicólogo y sexólogo Enrique Cerón los invitó a revisar sus experiencias personales con respecto a la educación emocional que recibieron en sus familias. Se logró visibilizar la relación entre masculinidad y enojo culturalmente programada y se brindaron herramientas para aumentar la inteligencia emocional y la resolución no violenta de conflictos. A través de ejercicios aplicados y dinámicas dirigidas la audiencia logró profundizar sus conocimientos sobre género y masculinidades.
Este es un esfuerzo más que la GIZ realiza para reducir las brechas de desigualdad entre hombres y mujeres, es fundamental pensar en contenidos dirigidos a diferentes sexos, así como contenidos para audiencias mixtas con el fin de establecer vasos comunicantes en estos temas entre las y los colegas.
Más información genero-mexico@giz.de
—————————————————————————————————–
This event seeks to promote new and broader ways in which men can respond rather than react to different situations, in non-violent attitudes. This workshop aims to provide helpful tools to build new masculinities.