The training workshop will take place simultaneously in Manila and Fiji on 2nd of  March. The participants in both locations will interact/communicate via video conference. The training workshop is based on the "Pacific Gender and Climate Change toolkit". Participants are the Gender Focal Persons and at least one technical staff from each project/program in the Philippines & Pacific Islands who is directly involved in project implementation and deals with gender issues in the field.
When? 2nd of March 2015
Download the Pacific_Gender__Climate_Change_Toolkit_2014
Download the Training_Outline_for_Gender_Working_Group_-_Manila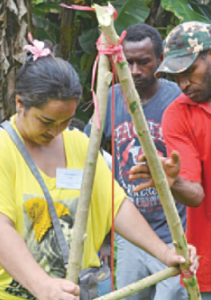 IMPRESSIONS OF THE EVENT AND BACKGROUND INFORMATION:
Gender Week 2015 marked the successful collaboration of GIZ's Philippine and Pacific teams to make GIZ projects more gender-responsive, through the Training on Gender and Climate Change on March 2 at the GIZ Office Manila.
Organized by GIZ Philippines and Pacific Gender Focal Person Matthias Oesterle and HR Manager Adonna Esleta with GIZ's Coping with Climate Change in the Pacific Island Region (CCCPIR) project, the training brought together gender focal persons and technical staff from various GIZ projects and offices to develop their capacities to efficiently promote the integration of the gender perspective into climate change initiatives, and to develop strategies that effectively promote gender equality as part of climate change and disaster risk reduction responses.
The main resource material used for the training was the Pacific Gender and Climate Change Toolkit developed by the Secretariat of the Pacific Community (SPC)-GIZ Pacific Project Coping with Climate Change in the Pacific Island Region, which is being implemented with the Secretariat of the Pacific Regional Environment Programme (SPREP), UNDP, and UN Women, among other partners.
According to the toolkit, the gender perspective is important in climate change mitigation and adaptation projects because men and women have different roles and activities that impact climate change.
The participants were introduced to the gender analysis tools in the Toolkit.
The training, however, was not just a showcase of effective cooperation but also of the perseverance, resourcefulness, and efficiency of GIZ staff, because the main resource persons from the GIZ Pacific CCCPIR Project – Marita Manley, Nicollette Goulding, and Amelia Caucau – conducted the training via a live video stream from their partner's office in Fiji.
Agnes Balota of GIZ's Support to the Climate Change Commission (SupportCCC) project and Sam Raras of GIZ's Protected Area Management Enhancement (PAME) project and Support to the Implementation of the Tri-National Sulu-Sulawesi Marine Ecoregion Comprehensive Action Plan (SSME) project facilitated the training from Manila, and provided the participants further inputs on Climate Change Impacts and Gender Issues, respectively.
The participants capped the training by sharing their plans to integrate gender and climate change concerns in their projects, such as through gender orientation of technical project staff and ensuring gender-responsive project reporting.
They were encouraged by GIZ Philippines and Pacific Resident Director Dr. Andreas Kalk in his concluding remarks.