The 4-day-event "Femmes et Filles Fortes" (FFF) contributes towards raising gender awareness in Cameroun for already eight years. The GIZ together with other institutions of the German Cooperation in Cameroun organise a series of activities around the International Women's Day.
The United Nations Organization has proclaimed 2015 the International Year of Soils. The issue "soils" will be the topic of this day's event.
When? 05th of March 2015
Topic "Soil"
10:00 – 14:00 Banana Workshop with a sketch showing the division of men and women working on the field and/or in the production process
14:00 – 16:00 Women and the access to land in Central Africa: Difficulties and its effects on society (Panel-discussion), more information (in French): Propriete_Fonciere
Detailed programme (in French): Dépliant_FFF_2015
IMPRESSIONS OF THE EVENT AND BACKGROUND INFORMATION:
Plantains are an important consumer good in Cameroon, but are as well an export product. For the daily life women grow them, but when the goods are intended to be sold in high quantities, men are responsible for the cultivation.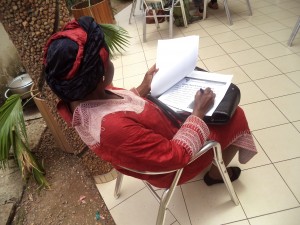 The Workshop – organized by the agriculture ministry – which addressed the employees of GIZ was well attended, 24 persons took part. The interest was high, because a lot of peoples' families live in villages where they have some plantain plants and knowledge about the transformation of plantains is very limited.
Plantains perish quickly. The transformation avoids that the surplus has to be thrown away. Furthermore, the transformation can help especially women who grow them for personal use and for sale of a small part to make out of plantains flour and other products (beignets, cakes …) which can be sold. This workshop which showed practical ways of the transformation was therefore a contribution to the economic development of women especially in rural areas.
Women and the access to land in Central Africa: Difficulties and its effects on society (Panel-discussion):
All panelists recognized the problematic that women are discriminated in regard to inherit land. Women do not even think of a heritage or reflect the situation – they told in the panel – because it is just so natural that their brothers inherit the land of the parents, mostly the fathers' land.
Nowadays, there is a discrepancy between the traditional law (which is preferential for men) and the civil law (which treats men and women equally). There is the need to harmonize both. This concerns especially rural areas. In cities there seems to be a change. Women start to buy land as well.
It is important to continue with sensibilisation campaigns and to inform women about their rights concerning civil law.