1. Rationale of Intervention – Setting the Context
Around 700 million people in India gained access to electricity between 2000 and 2018. This reflects strong and effective policy implementation efforts by various players (International Energy Agency, 2021). But providing reliable power that is consistent and adequate remains a challenge, particularly for rural households. With growing energy demands nationally and targets set for clean energy use, the importance and role of Decentralized Renewable Energy (DRE) is gaining momentum in India mainly in the context of the fight against the effect of climate change. To achieve its real potential, it is important to address the challenges within the off-grid / Decentralized Renewable Energy (DRE) ecosystem. The absence of a supportive ecosystem, regulatory environment, easy access to enterprise and end-user financing, access to a pool of skilled, qualified human resource are all key barriers in addressing the challenge of energy security and scaling up of off-grid supported rural enterprises. Additionally, energy policies often have a great impact on social equality, as society attributes differential roles to men and women, which influence their relationship to energy access and use. In India, where there is an ever-growing strong presence of women networks, women self-help groups (SHG) provide a solid opportunity to bring a gender perspective into the clean energy sector. This is also an opportunity to ensure that new businesses and markets that rely on clean energy contribute not only to fight climate change but also to move towards closing the gender gap that exists within society. To address the above ground reality, the IGEN Access II program has conceptualized, designed, and implemented its activities by focusing on rural women
2. IGEN Access II – Brief introduction
The Indo-German Energy Programme, Access to Energy in Rural Areas (IGEN Access – II) is a bilateral cooperation project carried out by the Deutsche Gesellschaft für Internationale Zusammenarbeit (GIZ) GmbH on behalf of the German Federal Ministry for Economic Cooperation and Development (BMZ) and the Indian Ministry of New and Renewable Energy (MNRE). IGEN-ACCESS seeks to create a conducive environment for rural renewable energy enterprises to make energy services easily accessible to the rural population. The program builds upon three strategic pillars: Private sector development and innovation, access to finance, and public support programs. The interventions are concentrated around energy in agriculture, clean cooking energy, rural electrification, and productive uses of energy. The initiative aims to impact many stakeholders from the public sector, renewable energy enterprises, training institutions, financial institutions, Non-Government Organizations, and rural households with a focus on women. It is also a knowledge-building program and one of the key outputs is dedicated to pilot projects.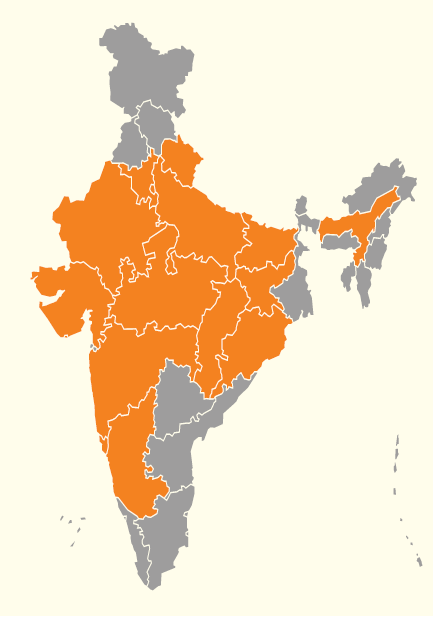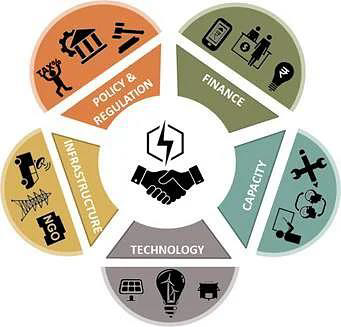 3. Results in Field / Specific Impact Achieved
Capacity building – Capacitation of 2,500 women entrepreneurs across 11 states of
India.
Unlocking Finance – Memorandum of Understanding (MoU) signed with seven Formal
financial Institutions (Nationalized Banks, Regional Rural Banks) and three Microfinance
Institutions, Non-Banking Financial Institutions (MFIs – NBFCs) to design and lend DRE
focused loans for end-users.
a. About 70,000 women end-users facilitated with loans to access DRE products,
including for use in enhancing the livelihoods. The average size of the loan is INR
6,800 (Euro 78).
b. 760 entrepreneurs facilitated with a business loan from formal financial institutions
for the integration of clean energy application/technology in their exiting livelihood
and for value enhancement, reduce drudgery purpose. The average size of the loan is
INR 42,000 (Euro 483).
Technology – Digital Akshay Urja Training for Women Entrepreneurs – Online training helped
save time and money in terms of physical travel and attend training at convenience. This also
addressed the issue of women not being able to leave their homes to attend training due to
domestic chores, familial constraints, and domestic priorities.
Policy and Regulation – White paper for DRE-powered application for Livelihood
Promotion and Value enhancement. Sensitize and facilitate IGEN Access partner
organization to focus on women end-users, including prioritizing women in accessing loans for DRE products and identifying and capacitating interested women into successful business entrepreneurs. 5. Infrastructure – Open-Source Knowledge repository for DRE applications/technologies. Easily accessed at India Renewable Energy Appliances Portal (I-REAP)
4. Promoting gender equality within the program – Specific program activities approach undertaken for gender mainstreaming
Capacitation of women entrepreneurs engaged in Renewable Energy Product Business: The program is working closely with interested women identified across different geography, who are capacitated and promoted as an entrepreneur. The trained women entrepreneurs act as a connecting bridge between the product supplier and the potential end-user mainly to create awareness and to promote the use of clean energy products. Based on the demand identified at the field level, relevant DRE products and suppliers are identified. Capacities of women entrepreneurs are built mainly about the products, handholding to run a business, developing financial plans, and using communication material to create awareness. With the onset of the Covid-19 pandemic, physical training was restructured, and the innovative digital online training program was introduced. The program has reached about 2500 women across 11 States of India.
Promoting Gender Equality by increasing Access to clean energy products: IGEN ACCESS focuses on women end-users specifically through the partner organization that is formed into SHGs and women networks. From within the community, interested women are identified and trained into energy entrepreneurs using digital technology. The project observes access to clean energy products at the household level as a vehicle for local economic development. In addition to the lighting of rooms in a household, DRE products are also used to power livelihood activities, which increases the hours of work done resulting in increased income. The project recognizes 'Women' as the central focal point and aims to encourage them to utilize the DRE-powered application for productive activities in the farm (solar dryer, solar cold storage) and nonfarm (eatery, sewing machine, blacksmith, pottery) activities.
Project Impact and Contribution to Sustainability: IGEN ACCESS program aims to unlock finance for DRE applications and technologies to end-users living in rural areas and support rural businesses that directly influence the women household members. The objective of the program directly addresses the United Nation's Sustainable Development Goal 7: Ensure access to affordable, reliable, and clean energy for all. The above is in line with the Government of India's target of providing energy access to all and promoting clean energy.

Digital Akshay Urja Training for Women Entrepreneurs: Comprise of four components
Saksham – Focus on core entrepreneurship aspects and the curriculum is approved by Skill Council for Green Jobs. This training is done with the help of smartphones and digital applications, MS Teams.
Akshay Urja online training – Focus on DRE products and services, business skills, and communication.
On the Job Training – Hand holding done by field staff in the field within 2 weeks of completion of online training
Refresher Training – Opportunity for DLE to share experience, seek clarification and resolution of issues encountered in the field

Gender-sensitive monitoring system – Measuring the standard of living of women entrepreneurs engaged in Renewable Energy Product Business: Gender is the key focus of the existing RBM system. IGEN ACCESS program has developed a detailed 'Result Based Monitoring' sheet with a focus on key indicative points that help understand the reach and over the period change of end-users. Structured gender analysis and assessment based on the baseline and end-line survey is carried out as part of the program mainly to understand the impact at the household level with a focus on women. Aggregation of data with a focus on women is calculated using a five-point scale largely covering:
• Participation in family decision making (Children's education, marriage)
• Confidence/skill in managing their own business, and contribution to household income.
• Ownership of personal assets,
• Confidence to communicate (with internal and external stakeholders)
• Leadership in terms of participation in public activities at different levels – Community, village, and the district Sharing learning from the field at National events with different State government stakeholders is aimed at taking forward / scaleup the initiative across different states of India through State promoted women Self Help Groups.
5. Sharing Learning at National Forum / Events
On the celebration of India's 75th Year of Independence, The Ministry of New and Renewable Energy (MNRE), Government of India, and Deutsche Gesellschaft für Internationale Zusammenarbeit (GIZ) came together to present and share the experiences and learnings on off-grid solar and Decentralised Renewable Energy (DRE) programs and initiatives across India. On 25th August 2021, as part of the event, a session on 'Akshay Urja Trainings was presented. The session showcased the contribution towards an "Atma Nirbhar Bharat" where rural women capacity building promoting DRE products using a digital platform were invited to share their experiences as entrepreneurs with officials of different departments and other important stakeholders. As part of the Akshay Urja Trainings, over 2,500 village-level entrepreneurs across 11 states in India have been trained. IGEN ACCESS II is currently working on documentation of case studies and learnings stories from the field for sharing with a wider audience. The focus is on digital training, women's entrepreneurship opportunities in the energy sector, Women's role in the integration of clean energy technologies in livelihood activities for income generation, and value enhancement.
6. Competition-related information:
IGEN ACCESS II is an ideal winner for this award because women are the central focus of the program and it considers gender dynamics and social roles in rural India to overcome inequalities, promote business models to create economic opportunities for women. This project looks at empowering women by building their capacity to be reliable green energy entrepreneurs as a pathway to increase their business skills in terms of decision-making power, make them more financially independent, and be confident to participate in public spheres. While financial autonomy is important, through this program we have witnessed that rural women have been able to turn their life around to be drivers of their own life decisions. Furthermore, many of these women are first-time income earners in their families, and their success has seen inspiration for other girls within the family and community. The prize money will help the program to take the learnings to other potential states with help of the partner ministry.