A new business-driven approach to women's empowerment
in the ready-made garment industry.
On behalf of – German Federal Ministry for Economic Cooperation and Development (BMZ)
Applicant – GIZ Bangladesh Gender Working Group
Context
As the biggest contributor to Bangladesh's GDP, and as the employer of around four million people, the ready-made garments industry is vital to the country's continuing economic growth. Although women constitute around 65 percent of the total workforce, mid-level to upper management remains mostly male. Factory managers remain poorly informed about the significance of gender issues.
Under the develoPPP.de programme of the German Federal Ministry for Economic Cooperation and Development (BMZ), GIZ has entered into a development partnership with Lindex, one of the leading European fashion chains. Lindex has been sourcing clothes in Bangladesh since 1998 and already has an established record of striving to offer socially and ecologically sustainable products. Because of its commitment to sustainability, Lindex is keen to improve the situation of women in Bangladeshi factories, where it sources approximately 40 per cent of all its products. Lindex's supplier companies likewise have a stake in the drive for sustainability, as they will also benefit from the larger company's enhanced reputation in its European markets.
Challenges
In RMG sector, factory owners are unaware of gender mainstreaming approaches, and the Bangladeshi Labour Laws do not provide any concrete guideline on the matter. A small number of more progressive factories are acting and achieving some changes, but for a wider-reaching shift in the industry's approach to human resources, it is necessary to mainstream gender-oriented management and human resources policies across the sector and to establish a greater gender balance in the top management hierarchies. Such improvements would help address gender-related problems, such as harassment and abuse in the workplace, the lack of maternity policies and facilities, and shortfalls in sexual and reproductive health programmes for female workers.
Approach to enhancing gender competence
The project consists of the development of a sustainable, business-driven model to institutionalize women's empowerment and provide incentives for its inclusion in factories across the ready-made garment sector.
In collaboration with other important players in the industry, Lindex and GIZ has developed a toolbox that offers a range of instruments to promote the inclusion of gender issues in internal management and human resource (HR) systems. This has been relevant to both suppliers and buyers along the textiles supply chain. Ultimately, this will be made available to all stakeholders in the industry. In a pilot phase, the approach was first introduced to ten of Lindex's larger suppliers. These factories benefited from capacity development to acquire the necessary expertise for planning and implementing gender-sensitive business operations. They have also received technical advice in this area from GIZ. The evaluation of the factories' gender performance involves gender-inclusive business and sustainability scorecards, which Lindex links to its business orders. The approach has been tested, 30 further supplier factories have been included.
In order to encourage its wider uptake and achieve the necessary mainstreaming effect, Lindex and GIZ have present the results of the pilot measure to the government and to other industry players. The capacities of industry business associations and other stakeholder groups are also being developed for sectoral integration of the approach, enabling them to deliver relevant training and advice to their members at the factory level, or to carry out gender assessments in factories, examining the degree of integration of women into the management structures.
Alongside these activities, the project set up a community-based women's café that has offered support based on the needs and demands of female workers. For example, the women's café has become a venue where women learn about their rights, obtain legal advice or can interact with women from other factories. This has empowered them in their relations with their own factory management.
Internal, as well as external gender assessments, have been conducted in 40 factories to find a factory-level gap on gender issues and assist these factories with the development of action plans for improvement. Total 74 number of senior management and 510 number of mid-level from these factories have been trained on Gender issues to sensitize them and internalize the gender action plans. Each factory has assigned individual focal persons to take care of gender issues in their factories. A gender person has his/her job description as per position.
The GIZ-Lindex project has established a model for women's empowerment that can also be adopted by other brands and factories to ensure its long-term impact. In a pilot measure with its own suppliers, Lindex has devised gender-specific performance criteria that suppliers and buyers alike can integrate into their management systems. By sharing the results of this initiative with other buyers and business associations, and through the cooperation with GIZ, Lindex has contributed to a new model for the mainstreaming of gender issues on a larger scale across the industry.
Impacts and results
The project has improved the situation of about 82,000 workers employed along Lindex's supply chain in Bangladesh, particularly women, who are the majority of the workforce.
Other suppliers besides Lindex's partner companies got involved in the project, as they are also obligated by the social standards of the International Labor Organization, and they face the same market pressures to produce garments that the consumers regard as sustainable.
It is projected that 70 percent of the factories involved in the project (including Lindex-affiliated companies and others) have improved their gender-related social responsibility, as measured using the Lindex scorecards. This will be reflected by greater gender balance in their management structures, closer wage parity between men and women, training and representation for women, and measures to reduce sexual harassment.
By the end of the project, one industry stakeholder group is expected to have begun to provide training and advice to its members and made the toolbox of gender integration instruments available to them.
Long-term uptake of the gender mainstreaming measures by many more stakeholders across the garments sector.
"It's the women that keep our business moving at Lindex. For many years, we have worked to drive change in our supply chain through worker engagement and training. Now we will add a top-top bottom approach, where we work to change the leadership and management style in factories to become more inclusive for women and aware of gender equality issues", Anna-Karin Dahlberg, Production Sustainability Manager at Lindex
Cooperation:
The approach used by the project brings together a variety of actors, that cooperate closely to make gender mainstreaming possible and successful.
Lindex is GIZ's key public-private partner in this intervention. BSR was involved in project design and gender toolkit development for the factories.
GIZ implemented this project in ready-made garments factories with the support of Network for Research and Training (NRT).
Bangladesh Knitwear Manufacturers and Exporters Association (BKMEA) offered their 10 factories in this project.
The most important part of the cooperation is that factories are taking part in this project voluntarily and factories have developed their gender strategy plan and polices. Not only that, factories are now more concerned about gender issues.
The project has also established a Women's Café with a national NGO- Karmojibi Nari to aware 3330 number of factory workers, especially females, and develop 320 number of leaders on gender and women's empowerment issues among them 272 number of leaders are female!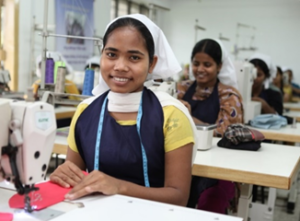 Photo Credit: Shumon Ahmed, GIZ BD