Promoting gender equality
The Programme Support to the African Continental Free Trade Area (AfCFTA) is one of the main projects within the GIZ African Union portfolio, based in Addis Ababa, Ethiopia. Our ever-growing team is supporting the African Union (AU) and its Member States in the implementation of the treaty, which entered into force on 30th May 2019. The Operational Phase of the Treaty was launched by the African Union Assembly on 7th July 2019, in Niamey, Niger.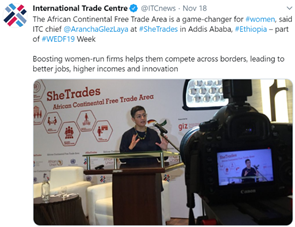 The coming into effect of the Agreement establishing the AfCFTA marks a new development in Africa's trade policy discourse. The potential of a Continental Free Trade Area and its benefits for the development of the African continent make it a flagship project of the AU and a focus of Germany's foreign policy. In this regard, GIZ is working closely with the AU in order to boost the implementation of the treaty and help Member States negotiate in different areas such as trade in goods, services, investments, involvement of stakeholders and dispute resolution mechanisms.
Great importance is given to gender within the early implementation phases of the programme. The AfCFTA is a project in construction, a 'blank canvas' opening a whole range of possibilities in its different operational phases. Member States have shown the willingness to include gender in the creation process by including Art.3 (e) into the Agreement, which stipulates that the AfCFTA has as a general objective to ''promote and attain sustainable and inclusive socio-economic development, gender equality and structural transformation''. In this light, all parties involved wish to build a sustainable free trade area, which creates room for women in trade and does not only include gender as an afterthought.
The challenge is to now put these intentions into practice and to make sure that gender concerns are incorporated appropriately within the AfCFTA. The best way of making sure that voices are being heard is to include women, women business associations, civil society organizations and other relevant stakeholders into the process. Our project at GIZ plays an important role in the gathering of these stakeholders, and we always make sure that women are well-represented at the negotiation table.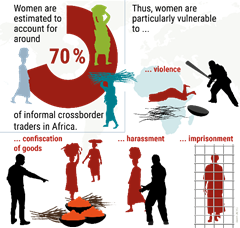 The current context for women in trade on the African continent is proven to be challenging. It is difficult to draw an accurate picture of the role of African women in international trade, due to the lack of gender-disaggregated data at international and domestic level. However, existing research points to a consistent picture across countries: women's economic activities tend to be concentrated in the informal sector, subsistence activities and non-tradeable sector of the economy.
Female managed services firms struggle to export compared to their male counterparts, especially in Africa because of low access to networks, capital and knowledge. Women owned businesses (WOBs) in general face a number of economic, social and cultural barriers. When it comes to trade in particular, they lack knowledge of regional markets, market requirements and standards, and regional supply chains. Trade-related administrative procedures and red tape are particularly burdensome due to time poverty, poor access to infrastructure and discriminatory practices at the border.
The AfCFTA opens opportunities to increase the participation of women, and so our approach is to create platforms where women can share the problems and challenges that they are facing. This gives them the chance to network, see that they are not alone, learn from best practices, exchange possible solutions, and be heard by policy makers such as the African Union, Regional Economic Community (REC) representatives and their national governments. It also enables them to advocate for their priority issues to policy-makers on a national level.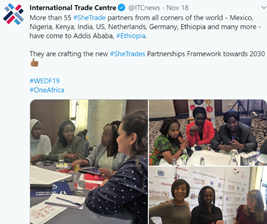 Our project has partnered up with International Trade Center's (ITC) ''SheTrades'' initiative to enable women's participation in the AfCFTA. The project, which is planned over 2019-2020 with an overall grant agreement of 740.230€, was kicked off in November 2019 in Addis Ababa. More than 100 women from across Africa, representing 55 Women Business Associations and networks of women in trade, gathered from 17-19th of November for the SheTrades initiative during the African Industrialization Week. The three-days workshop aimed to bring together stakeholders and policy makers in order to discuss the AfCFTA and its implications for women. They discussed amongst other things the need for capacity building and improvement of infrastructure, the opening of borders, the necessity to make information more available especially for women in rural areas. The main message that stood out was the necessity to give women a voice and to create mechanisms for systematic and institutionalized consultation of women business associations when drafting policies.
The so far successful collaboration with ITC will be continued with further awareness-raising workshops, but also through the creation of e-learning modules on AfCFTA trade topics, the drafting of policy briefs, the organization of meeting between the private and public sector. These events are already planned out: in March 2020 a Public-Private Dialogue will bring together regional WBAs, regional economic communities, sectoral experts, trade negotiators, and other key stakeholders, the purpose of this two-day meeting is to build consensus on the priority issues for women-owned businesses to be included in the AfCFTA. In the following June, a dialogue co-hosted by the ITC, the AUC, UNECA and supported by GIZ will serve as a culmination of topical analysis and close the first phase of the project.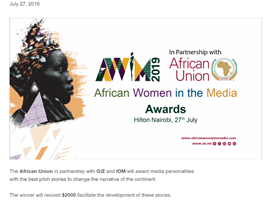 Besides our cooperation with SheTrades, we also work together with the AUC and RECs on Trade Policy Dialogue Forums aimed at fostering inclusive stakeholder engagement on the continent. For the Trade Policy Dialogue Forum in Rabat, we worked on a regional level and partnered up with the DTI in AUC, UMA and IGAD for the three-day capacity building workshop. On the GIZ side, our focus was to invite as many women as possible, from a diverse range of backgrounds: women's business associations and traders, but also civil society, academia, youth and human rights advocacy platforms or policy makers. Our list of participants was carefully put together using a database on civil society and private sector organizations from the MENA region. We tried to be as inclusive as possible and make sure participants from all UMA and IGAD countries were represented. For the ones we could not find contact details for, we went the extra mile and contacted them on social media.
Additionally, we were also involved in empowering female journalists on the continent. On 25th to 27th July 2019, we partnered up with the African Women in Media (AWiM) organisation to host the second edition of the AWiM awards in Nairobi (Kenya). Six awards were granted based on the pitches that were delivered during the three days event. Our project was part of the jury assessing the pitches and sponsored 4 awards to participants who shared inspiring stories about women and free trade, sustainability, migration, press freedom, the role of women in conflict resolution. GIZ and AWiM ensured the accurate reflection of the African Union's Agenda 2063 and the UN's Sustainable Development Goals in the selection of the winning speeches.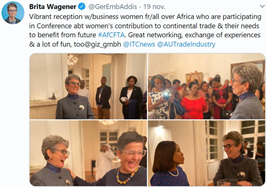 The main impact we expect from our work is to empower female-led businesses across the continent, as well as women representing civil society, youth groups, journalists and academia. We are aware that the task of creating a gender-sensitive AfCFTA, that explicitly addresses the priorities of women, is a monumental task. Our work is a first step in that direction, but change will not happen overnight. That is why we are planning our project for the longer time-frame of two years, and flank the SheTrades cooperation with our own, gender-sensitive approach to other activities.
By building capacity for women engaging with the AfCFTA, we hope to give them the tools to stand up for themselves and put pressure on policy-makers to take their needs and issues into account. Our aim is to foster a culture of dialogue in which no one is left behind and women speak on equal footing with men.
Gender as a quality feature of our work
The Programme Support to the AfCFTA is committed to upholding the values of GIZ for equal opportunities for everyone, regardless of their gender, sexual orientation or gender identity. This commitment has been acknowledged equally by our clients, beneficiaries, partners and commissioning parties.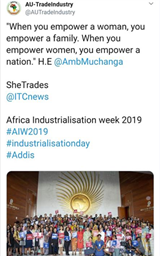 We have co-organized and supported a number of large-scale events with the African Union, different Regional Economic Communities (ECOWAS, UMA, IGAD) or implementing partners such as ITC. We had the chance for example to engage H.E. Ambassador A. Muchanga, Trade Commissioner within the African Union Commission during the SheTrades event. The rich and fruitful discussions continued at the German Embassy for the closing reception. Attendees of the cocktail had the opportunity to exchange with H.E. Brita Wagener, Ambassador of Germany to Ethiopia, but also with the First Lady of Botswana H.E. Neo Masisi. Our partners acknowledge our efforts to involve women into trade policy decision making processes.

Our work has furthermore been acknowledged by various press groups and by participants' themselves on their social media pages. This is the most rewarding aspect for us, as women and WOBs are the main beneficiaries of this work. For them to come to us and share how useful the event has been, or even to see the posts on social media is always an accomplishment. More than the conferences themselves, the participants always appreciate the networks created by such gatherings. Small growing business and women business associations have the opportunity to connect, share, exchange and grow together. Last but not least, our work is acknowledged internally within GIZ as we make sure to share our activities through DMS, internal newsletters and the intranet.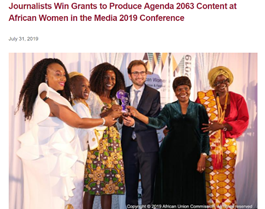 Gender and result-based monitoring
Our project is documenting its impact on gender equality by keeping track of gender in our results-based monitoring. We are not required in our office monitoring standards to disaggregate data by gender but within the project, we keep track of how many women and men we engage with for each activity we organize. We are also in the process of redoing our gender analysis and making it more comprehensive.
In our communications strategy, we try to explicitly address women, such as in our infographics (page 1). We are also planning to expand our discussion paper series on the AfCFTA to include one on AfCFTA and gender.
Cooperation
As we are aware that gender equality can only be achieved in a joint effort, we have built a strong network of partners, CSOs, stakeholders, institutions and donors in order to reach that goal together. Our first and main partner is the African Union, and we also work a lot with the Regional Economic Communities and plan to expand to Member State level. In addition, ITC and the SheTrades initiative remain important partners to expand our network.
The cooperation between all above-mentioned partners was fostered by a common ideal of gender equality, and more specifically by a goal to reach a fair-trade agreement for women on the African continent.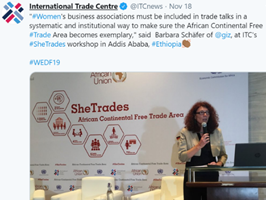 We collectively see trade as a way to empower women and create virtuous cycles of economic competitiveness, reduction of poverty and inequalities. We are guided in our missions by the UN Sustainable Development Goals related to Poverty Reduction (SDG 1), Gender Equality (SDG 5) as well as Decent Work and Economic Growth (SDG 8). The ''Agenda 2063: The Africa We Want'' as promoted by the African Union is furthermore guiding our work and is expressly aiming to create an Africa free of gender-discriminations by 2063. Finally, our own offices within GIZ AU are committed to promoting gender equality. We all see the potential of the AfCFTA and the importance to involve all actors equally, including women.
Along the way, we face challenges in various forms. First of all, we face logistical problems, such as unstable internet or difficulties to fly in partners in due to lack of easy flight connections within Africa. When trying to involve stakeholders and CSOs, we may also struggle to identify the right partners in foreign countries, not knowing who is more influential or who should be involved. We try to tackle this issue by questioning the partners themselves, and for example, at the end of the SheTrades event, we asked the straightforward question ''Who was not invited and should have been sitting at the table with us?''. Another, more crucial issue, is the way we involve women with policy-makers. The aim is not only to bring stakeholders and CSOs together with policy-makers – the ultimate goal is to have policy-makers actually include women's concerns and proposals into the drafting of future policies. Last but not least, there are still significant knowledge gaps about female entrepreneurship and trade, that we hope to address through our project in the years to come.