"Pledge for Parity" was the theme of the 7th annual gender event organized by the GIZ in Indonesia. The event took place in the Cemara 6 Galeri-Museum on 2 March 2016. In honour of this occasion there were well renowned guests present, such as women's rights activists, a former minister of Education and Culture and sundry other experts. The event was branched out into three different parts with short presentations, followed by panel discussions.
Within the topic "Balancing the future" gender aspects in science and technology were discussed. The speakers explained a range of barriers female students face if they choose to pursue a career in a male-dominated field such as engineering. They stated that daughters tend to be discouraged by family members from exhausting their occupational potential. In many cases parents are very reluctant to enable their daughters as they perceive male-dominated fields and industries as not appropriate for females and thus, don't expect them to become successful within those areas as their male counterparts. Therefore, it is very important to not only overcome gender-related stereotypes and clichés but also to teach our children egalitarian values in order to ensure equal access and opportunities for all genders in the future.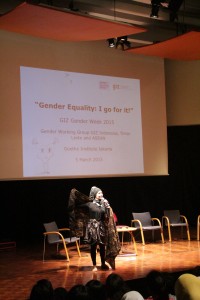 In terms of the question "Do women really count?", gender dimensions of social protection were talked over. One of the issues being raised was that social protection for children should start in the stage of pregnancy already. Only if maternal health is ensured, infant health levels will be improved too. On the other hand, specific women-related health issues are still neglected in Indonesia. The fact that women are vulnerable to specific health risks is not appropriately taken into account yet.
The last discussion revolved around the issue "Are we equal yet?". Subject-matters were gender, good governance, and economic empowerment. The speakers pointed out, that gender issues are not only about empowering women, they are about gender equality generally. Regarding to gender equality within government institutions it has been stated that gender balance should be ensured not only in functional positions, but also in leadership positions. It was criticized that the government in particular is extremely male dominated. If state employees would be treated equally and provided with equal opportunities, only then work positions would be occupied by the best available employees regardless their gender. Apart from experiences which have been gained in Indonesia, one GIZ colleague from Timor-Leste illustrated main achievements and challenges in terms of gender equality , which are currently identified as significant in this young democracy.
The event provided an understanding that Indonesia and Timor-Leste will fall behind international economic competitors if the issues related to gender equality are not resolved. In order to achieve comprehensive gender equality and to eliminate barriers to equal opportunities, more individual and collective innovative and courageous interventions are needed. 
Please access a presentation of the event here:
———————————————-
When: 2 March, 3-5 pm
Where: Cemara Galeri Museum, Menteng Jakarta, Indonesia
With: Mr. Peter Palesch, Country Director GIZ Indonesia, Timor-Leste and ASEAN, Mr. Zulazmi, Deputy Country Director GIZ Indonesia, Timor-Leste and ASEAN, Mohammad Rayan, GIZ FORCLIME GIZ, Mira Zakaria, Communications Officer,  Olin Monteiro, poet and women's rights activist,  Prof. Fasli Jalal, Former Vice Minister of the Ministry of Education and Culture, coordinator of the Movement "Kawal Pendidikan", Dr. Astutiati Nurhasanah, Badan Pengkajian dan Penerapan Teknologi , Dani Sofina Sibuea, Manager PT Bintang Cosmos, Meisye Sadali, Vice Principal SMKN 1 Cibinong, Uschi Busert, Team Leader PAKLIM Working Area Climate Change Education and Awareness, Dr. Gadis Arivia, Lecturer at University of Indonesia, Director of Board of Jurnal Perempuan, Dr. Mahlil Ruby, Expert for National Social Security Council – speciality on Health System Strengthening, Cut Sri Rozanna, Deputy of Programme Director, Valentina Yulita Dyah Utari, Researcher at Institute SMERU, Dr. Vivi Yulaswati, Director for Social Welfare and Social Protection, BAPPENAS, Doris Becker, Programme Director Transforming Administration – Strengthening Innovation (TRANSFORMASI), Coordinator Good Governance and Global Networks, Novi Savarianti Fahrani, Badan Kepegawaian Nasional,  Yuyuk Andriati Iskak, Komisi Pemberantasan Korupsi, Titi Eko Rahayu, Head of Planning Bureau, Ministry of Women Empowerment and Child Protection, Nataša Šarić, Advisor, Support to Peaceful Development through Innovative Employment Promotion, Timor-Leste, Dr. Nur Iman Subono, University of Indonesia and board member of Jurnal Perempuan, Dr. Nadja Jacubowski, Gender Focal Point GIZ Indonesia, Timor-Leste and ASEAN and musical accompaniment by V-light.
 What: Worldwide, women continue to contribute to social, economic, cultural and political achievement. But progress towards gender parity has slowed in many places. The World Economic Forum predicted in 2014 that it would take until 2133 to achieve global gender parity. GIZ Indonesia, Timor-Leste and ASEAN puts this year's gender event under the theme of the International Women's Day 2016 Pledge for Parity. At this occasion we will look at aspects related to gender equality in various areas of social life in the context of development cooperation in Indonesia, Timor-Leste and ASEAN.
The core part of the event will consist of three panel discussions where GIZ's commitment to gender in the field of social protection, science and technology as well as good governance will be discussed. Here, we will focus on the experiences of officials from partner organisations, GIZ managers, officers and external experts they have gained in terms of planning and implementing gender-related activities in their particular project, program or work stream. Apart from success stories, challenges and needs, which have been identified throughout work phases, will be addressed. The panellists will present and discuss their current approaches towards achieving gender equality.
In order to provide the opportunity for networking and to strengthen the visibility of GIZ's gender commitment the event will be open for external audiences.
See the program here: