Event Documentation: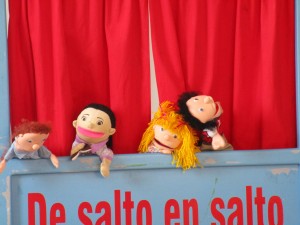 El 3 y el 4 de marzo, voluntarios/as de todas las edades ofrecieron su motivación para capacitarse como co-facilitadores/as de la Ruta Participativa, una metodología de prevención primaria de la violencia contra las mujeres para niños/as primordialmente entre cinco y nueve años. El taller impartido por el asesor interno de ComVoMujer, Timm Kroeger, no solo preparó para comunicar la temática a los/as niños/as sino que también invitó a reflejar sobre estereotipos y convicciones sexistas que uno/a mismo/a ya ha naturalizado. Entre el aprendizaje mediante el trabajo en grupo y el almuerzo con las (nuevas) amistades en la terraza de la casa alemana, todos/as los/as co-facilitadores/as tuvieron la oportunidad de ponerse en el lugar de los/as niños/as, de aprender y de ser traviesos/as.
No sorprende que el día de la propia Ruta Participativa (5 de marzo), los/as niños/as fueron más buenos/as y obedientes de lo que los/as co-facilitadores/as actuaron los días anteriores. De esa manera estuvieron muy bien preparados/as, lo que favoreció el trabajo con los niños/as. Hubo risas, pensamientos, intercambio, juego, aprendizaje y sobre todo mensajes que ojalá se queden con todos/as los/as participantes para siempre, entre ellos: "¡Mujeres y hombres son iguales!", "¡No a la violencia!", "¡Somos todos un tesoro!".
Galería de fotos:

 ———————————————————————
When: 3 –  4 March 2016: Workshop for co-facilitators (max. 18 people); 5 March 2016: Workshop with (grand)children from GIZ-Ecuador staff (max. 40 children between the age of 5 and 9)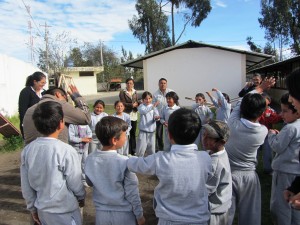 Where: Quito     
With: Timm Kroeger, facilitator (GIZ)
What: Get to know this new methodology for children between the age of 5 and 9. What a playful way to contribute to the prevention of violence against women (VcM)!
 Download the flyer with all events of GIZ Ecuador here: