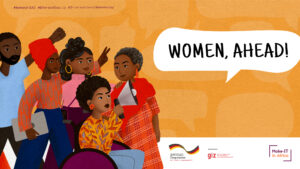 Awareness Campaign: Women, AHEAD!
Women all over Africa are excelling in their fields and fighting for women's rights every day. They are feminists, actively or unconsciously paving the way for others and overcoming stereotypes and discrimination.
On the lead-up to March 8th, we celebrate women, their achievements, and their allies by highlighting those who inspire us, who overcome animosity and inequity, and those who empower African women.
We shout out #WomenAHEAD by showcasing those who were and are #AHEAD of their time. The acronym AHEAD came out of our research and conversations about all the women who inspire us and what it takes to truly #EmbraceEquity:
Angels – #ThinkAHEAD
Heroes – #AHEADOfTheirTime
Enemies – #AHEADache
Allies – #PushAHEAD
Disrupters – #AHEADOfTheCurve
Follow the Make-IT in Africa LinkedIn Channel to let trailblazing and game-changing women inspire you. And tell us: who are the angels, heroes and disruptors you admire the most?