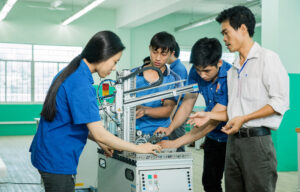 On 1/4/2023, an experience day for female students is organised by Ninh Thuan Vocational College that is supported by the Vietnamese-German Programme "Reform of TVET in Viet Nam" to become the first training centre on renewable energies in Viet Nam. The event opens a space for 200 local girls to explore career prospect in technical fields, through diverse activities including school tour, interactive experience on machines, discussion with the college's teachers and students and Q&A sessions with representatives from the business partners.
In Viet Nam, technical occupations are still perceived as more suitable for men and significant barriers to girls' participation in the field still exist. With the theme "Follow your passion, choose the right occupation" the event encourages young people, regardless of gender, to choose a profession based on personal interests and capacities not on gender stereotype.
The event is supported by the Development Partnership (DPP) Vocational Training Center for Renewable Energies – Wind and Solar Technology. The DPP is implemented jointly by the cooperation partners Vietnam Industries Building Services JSC (IBS), Festo Didactic SE, Schneider Electric Vietnam, Ninh Thuan Vocational College (NTVC), and Deutsche Gesellschaft für Internationale Zusammenarbeit (GIZ), represented by the Programme Reform of TVET in Viet Nam, and supported by the develoPPP.de programme of the German Federal Ministry for Economic Cooperation and Development (BMZ). The objective of the DPP is to establish vocational training for wind and solar energy in selected regions in Viet Nam and to build up a network among predestined TVET institutes, competent to offer initial and further training in renewable energies that is inclusive and meets the industry demand.
You can find further information of TVET Programme at Home – TVET (tvet-vietnam.org)