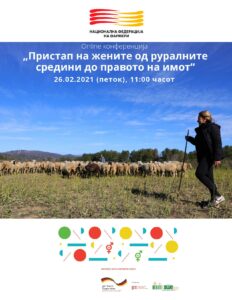 On 26th of February 2021, an online conference "Access of women in rural areas to property rights" was organized by the National Federation of Farmers of North Macedonia within the regional campaign "Empowered Women, Empowered Economy" supported by the Deutsche Gesellschaft für Internationale Zusammenarbeit (GIZ) GmbH within the project "Support to the Diversification of Economic Activities in Rural Areas of Southeast Europe" and the Open Regional Fund for Southeast Europe – Legal Reform.
The online conference focused on increasing the cooperation for active promotion of positive examples of gender equality, establishment of mechanisms for education and information of the women from the rural areas for their economic and social development.
It was emphasized that currently, 27.81% of the properties in North Macedonia are owned by women, while 72.19% are owned by men. In rural areas, the situation is worse, with only 5% of women holding property rights, usually after becoming widows.
The online conference was attended by representatives of institutions, embassies, organizations and farmers from all regions of the Republic of North Macedonia.
Documentation