The Network International Cooperation in Conflicts and Disasters (NICD) and the Sector Programme "Promoting Gender Equality"
Learning from the Field webinar in collaboration with the
International Rescue Committee (IRC)
EMAP approach – Engaging Men through Accountable Practices to Reduce Gender Inequalities and Promote Non-Violence
This webinar will introduce you to the EMAP approach – Engaging Men through Accountable Practices to Reduce Gender Inequalities and Promote Non-Violence, which has been developed by the International Rescue Committee (IRC) and implemented in the Far North region of Cameroon and Tanzania with the financial support of the GIZ Sector Programme "Promoting Gender Equality" in 2019-2020.
EMAP is an approach to prevent gender-based violence through a structured process of overcoming violence-related gender stereotypes. The approach initiates and accompanies reflection processes among men and women on the gender-specific effects of conflict and violence as well as social norms and gender roles.
Danielle Roth, Ingrid Bigirimana and Esther Karnley from IRC are going to share valuable field experiences from different contexts and important lessons learnt. In addition, there will be short inputs by the Sector Programme "Promoting Gender Equality" by Yordanos Melake and by the NICD WG Displacement, Migration and (Re-) Integration (Candost Aydin and Joerg Le Blanc). The webinar will conclude with time for questions and discussion.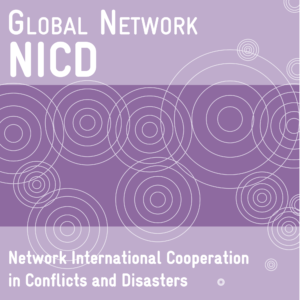 Documentation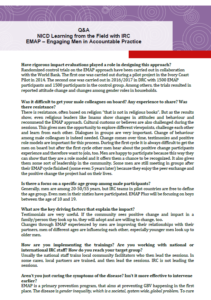 For questions and feedback, please contact nita.schaub@giz.de or lisapeth@giz.de.