Women in Lebanon Spotlights Campaign
Highlighting the history of women in Lebanon and the achievements in gender equality, the Gender Working Group GIZ Lebanon is using the gender week for a daily email campaign. During GIZ' gender week, a message was sent each day to all colleagues of GIZ Lebanon in order to create awareness and knowledge on women's rights in Lebanon.
The first four days highlighted the achievements of women in the sectors sports, politics, film, and peacemaking and the inequalities that persist. Friday 8th, women's day, was used for a summary of the history of women's rights achievements in Lebanon.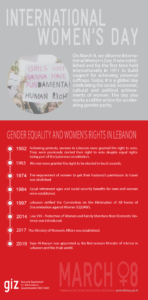 Contact Details
Name: Miriam Tabin
Email:
Miriam.tabin@giz.de