The GIZ India security desk organized a "Safety Training for Women" on Tuesday, 06.March.
Women Safety is topic of global concern. The security desk GIZ India organised a "Half-day Safety Training for Men and Women" on Tuesday, 06th March, 2018.
These were separate sessions, to ensure that both men and women feel comfortable in practicing the techniques first with each other and also modifications in the training specifically for women colleagues, to ensure safety aspects are looked at thoroughly.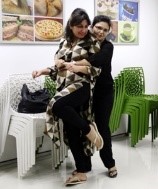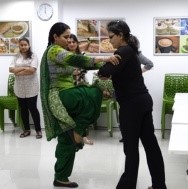 The topics covered in the training were:
Option 1:
•             General Awareness on how to reduced risk
•             Tips to Stay Safe
•             Safety during travel: in public transport, driving your own vehicle, out-station, hotel, public places, social gathering, or social media
•             Know your legal rights
•             Self-Defence Tips – Know the vulnerable parts – hit where it hurts
•             What are potential weapons that you carry in your purse and how to use them
Option 2:
Module 1: Evasion, Avoidance and Deterrence – General awareness and tips for how to stay safe in various situation that one may encounter while travelling in your own vehicle, public transport or out of town; how to stay safe while socializing and on social media
Module 2: General self-defense training
How to use your own body effectively for your self-defense
Module 3: Using common implements and accessories for protection
Self-defence using common implements generally we carry with us, like key chain, mobile phone, hair pin etc
The participants learnt not just practical tips but also practiced self-defense techniques with each other. The training was useful to both men and women to learn the different techniques of using one's own body as tool to protect oneself.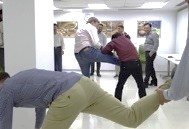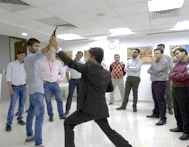 The training for GIZ India staff was organized by GIZ India security and safety officer Ms. Kiran Kanda