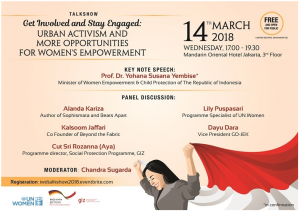 Indonesia's identity as a multicultural country, with the fourth biggest population worldwide and as one of the twenty most important industrial and emerging market economies (G 20) is one of the largest and most influential economies in the region (ASEAN) with a growing middle class and with its natural resources.
Indonesia has ratified the major international conventions that uphold principles of gender equality and empowerment of women. These instruments include the United Nations Convention on the Political Rights of Women ratified by Law 68/1958, the United Nations Convention on the Elimination of all Forms of Discrimination against Women (CEDAW) ratified by Law 7/1984, and the Optional Protocol to the CEDAW which was signed by the Government in 2000.
With the Presidential decree 59/2017 regarding the Sustainable Development Goals (SDG), the discussion about the SDGs and the importance of the SDGs got a new drive and gives new opportunities for their successful implementation.
With regard to the SDGs, one of Indonesia's commitment is the involvement of all stakeholders throughout the process, from planning, implementation, as well as monitoring and evaluation processes. The aim of Indonesia is to maintain a working relationship based on mutual trust between all stakeholders, consisting of the government, CSO, philanthropy and business, as well as academics.
On the 14th of March a special event in cooperation with UN Women titled: "Get involved & stay engaged: Urban activism and more opportunities for Women's Empowerment" was held.
(c)GIZ/Arvianto
On Wednesday, 14th of March 2018, more than 100 participants followed the Invitation of the GIZ Gender Working Group Indonesia, Timor-Leste and ASEAN in cooperation with UN Women to join the GIZ Indonesia Gender Event 2018 with the theme "Get involved & stay engaged". The resource persons and participants have experienced an exciting event with intensive discussions, including sharing knowledge based on the impressions of the visitors and everyday experiences.
This event was part of the occasion of the GIZ Gender Week 2018 worldwide to promoting gender equality as guiding principle and a quality feature of GIZ work.
The core part of the event consisted of a panel discussion towards the Sustainable Development Goals and the challenges Indonesia is faced within regarding gender issues. Representatives from GO-JEK (an Indonesian hyperlocal transport, logistics and payments startup founded in 2010), Beyond the Fabric (a community-based group of refugee and asylum seeker women), UN Women, GIZ and civil society, were invited to share their expertise.
The discussion presented interesting topics about the gender situation in Indonesia and how to to ensure women's full and effective participation and equal opportunities for leadership at all levels of decision-making in political, economic and public life.
In her opening remarks, Mrs. Sabine Machl, Director of UN Women Indonesia highlighted, that it Gender equality benefits both women and men, as well as the entire society. It requires everyone to take action. Through the HeForShe campaign, UN Women invite men and boys as equal partners to promote gender equality and women's empowerment. Everyone should use their voice to create transformative change so that all women and men have equal opportunities to reach their full potential.
Mr. Zulazmi, Deputy Director of GIZ Indonesia, ASEAN and Timor-Leste underlined, that women's rights, equal opportunities and equal responsibilities for women and men are a goal per se and a guiding principle for The Federal Ministry for Economic Cooperation and Development and therefore for GIZ, working on behalf of the Ministry, as well.
Mrs. Alanda Kariza, Author of "Sophismata" and "Beats Apart" pointed out, that Gender Equality is not always about the portions of work that a man and a woman must do, it is also about essential and practical parts about men and women taking decisions in a household. She highlighted the strong support of her husband who supports her and who is strongly committed to the equal share of taking decisions about the fate of their household.
Mrs. Dayu Dara, Vice-President of GO-JEK, underlined, that not all men are gender-discriminating. She for herself has met some very supportive men throughout her career. Those men have understood the economic losses you face by ignoring more than half of the population's needs and wishes. That's the very reason why her boss made her become vice president.
Mrs. Kalsoom Jaffari, Co Founder of Beyond the Fabric, highlighted that is especially for refugees very important that they know their rights and how to enforce them. Therefore, education and empowerment for the most vulnerable people –  female refugees and their children – is a key to overcoming the great challenges women faces in their flight from war and displacement.
Mrs. Cut Sri Rozanna (Aya), Programme Director, Social Protection Programme, GIZ, pointed out, that discussions about Gender Equality are a necessity! Commitments towards Gender Equality must not only written in paper but in real implementation. As women – in the whole world – still face the challenge of having equality and opportunities in the whole aspect of life. It is not just to remember that women right is a human right but also believe the fulfillment and respect for this rights will empower the society.
Mrs. Lily Puspasari, Programme Specialist of UN Women, underlined, that despite progress and efforts to push commitments towards Gender Equality, many women and girls have not achieved their full rights and endured violence in domestic and public spaces. Public's eyes need to understand the challenges that are faced by women and girls in Indonesia and to inspire everyone play an active role in overcome the challenges that pushed women and girls to reach their full potential, creating an equal and discrimination free world.
All members of the panel strongly underlined that Gender equality is an essential factor in achieving sustainable change. It is, therefore, one of the key values on which the work of the GIZ in Indonesia and ASEAN is based.
———————————————————————————-
Contact:
Alexander Ihrcke-Caudri
E alexander.ihrcke-caudri@giz.de