Genderweek – "Women, Peace and Security: Preventing war and sustaining peace"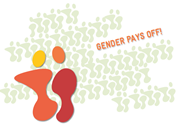 UN Security Council Res. 1325 calls for more support for women's participation in peace negotiations and in post-conflict reconstruction. Germany's role in the implementation of Res.1325 and the on-going challenges, were controversially discussed during the event "Women, Peace and Security: Preventing war and sustaining peace", which took place in Bonn during GIZ's annual Gender Week and attracted an audience of more than 150 people.
After an introduction by the Director of GIZ's Sector and Global Programmes Department, Andreas Proksch, The Greek play "Lysistrata", performed by Sophie Basse from the theater Bonn, offered the audience a unique entry-point into the evening's topic. In the play, the actress calls upon all women of Greece, to join her in a "love strike", to convince their men to stop the war. This provocative play encouraged the audience to think about women's limited possibilities to participate equally in peace processes – from antiquity until today.
The following Keynote speech by Shadia Marhaban then offered a very personal view, of a woman involved in conflict resolution. Shadia Marhaban, from the Indonesian region of Aceh, was the only women involved in the 2005 peace talks between the Indonesian government and the Free Aceh movement, which took place in Helsinki. She has been a peace activist ever since, and as a founder of the Aceh Women's League, she engages with female ex-combatants, to support their return into civilian life and promote their political participation. Further, she has been connecting female ex-combatants from different regions, such as the Phillipines, Nepal and Myanmar, so women can share their experiences and learn from each other.
Shadia Marhaban's speech was followed by an interview of Andreas Proksch, with Dr. Elke Löbel, Head of Directorate "Displacement and migration; crisis prevention and management" and Commissioner for refugee policy at BMZ. Her view provided the German government's perspective of women's role in peace building, and the efforts of German development cooperation in this regard.
In the following panel discussion, Anja Heuft, head of GIZ's programme "ProPaz" in Colombia, contributed a practitioner's perspective on peace-building initiatives. She pointed out how active, involved and optimistic Colombian women still are, even after 50 years of conflict. Women participated actively in the recent Colombian peace negotiations and, as a result, the final agreement is the first of its kind to have a gender chapter.
Dr. Elke Löbel stressed the commitments of the Federal Government to implement UN Security Council Res. 1325 on women, peace and security via the National Action Plan for 2017-2020 (NAP II).
Finally, Dr. Monika Hauser, founder of medica mondiale and award winner of the Right Livelihood Award, offered the perspective of a NGO. With medica mondiale, Dr. Hauser supports women who have survived sexual violence, offers psycho-social counselling, and ultimately helps them to move on from the role of victims, and take on a more active role in peacebuilding of their countries.
The discussion pointed out numerous obstacles, but also the high potential of women's equal participation in conflict resolution and peace processes as a contribution to sustainable peace – a potential that has yet to be harnessed.
The event was hosted by the Sector Programme Promoting Gender Equality and Women's Rights.