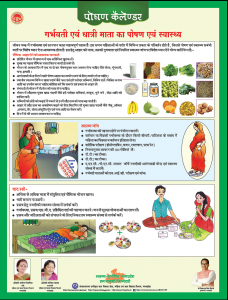 The Department of Women & Child Development, Bhopal in collaboration with GIZ & the NGOs celebrated International Women's Day on 8th of March, 2017 to improve nutritional diversity and improved quality intake of diets in a gender-equitable manner to reduce malnutrition among women and children.
In the context to promote nutrition diversity in collaboration with Agriculture and other line departments, Nutrition Calendar was released during the event. The idea behind this concept is to basically promote season wise availability of various food groups (cereals, pulses, milk & meat products, fruits and vegetables) and its consumption for bringing nutrition diversity at the household level.
In addition, during the program, hemoglobin check-up and awareness on was also made for adolescent girls and women. Further, slogan writing by the officials to support women's day theme: "BE BOLD FOR CHANGE" was also done. Adolescent girl's diet charts was also released for dissemination across the district. Moreover, at the field level the local partner honored some of the women for their work for the vulnerable communities of the society and for their rights.
For further Information have a look at the corresponding blog post!
——————————————————————————-
When: 8 march 2017
With: Mr. Shivraj Singh Chouhan, Mrs. Archana Chitnis, Mrs Pushpalata Singh, Archana Sarkar